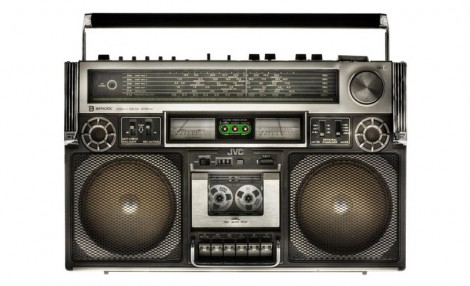 I've been staying real busy to say just a smidgin. Making remixes is like exercise, and I'm trying to attain some Jack LaLanne status. So pretty much any opportunity to push myself in a different direction and tweak some knobs, I'm gonna jump on right now. The most exciting thing is seeing my little 17-yr-old brother start getting swept up in the same fervor. I've been steadily feeding this kid old records, getting him to DJ and telling him what software to jack, and now he's really pushing himself way beyond what I was doing at his age. Raymundo (& his twin Kristo) are the go-to DJ's for high school and middle school dances in South Central NH (don't smirk, NH is the rugged and RAW), they also play live as a band from time to time, and now young DJ Ray is making beats, putting out remixes and winning contests! His take on the new B-Real & Damian Marley track won the Jamglue competition (he's featured on the front page), and I'm sure it's just the start. Peep his Exodus remix for a little more Marley flavor.
Along similar lines, if you're feeling my Alice Russell remix (yes, Chuck Wild & Captain Planet are one and the same- I use the alias for the more retro-funky stuff I put out) please take a minute to go to her website, click on "Which Remix", register (it takes one minute) and vote for mine (all the way at the bottom). Your support is much appreciated.
As for the LMFAO double whammy, it's another remix contest that I entered basically as an excuse to work on something. And yeah, I know the acapella pretty much sucks, but I'm gonna be rocking with them again next week in Cali and I figured it would be a good look to hand them off a remix when I see them. After basically finishing the Chuck Wild version (a lil on the 80's funk tip), I sat down with fellow Beatard UTK and started a second more electro-housey version to please a different crowd. Lemme know what you think.
One last note, anyone in the NYC area should come out to our Beatards SEX WAX party tonite with guest MC Bless Roxwell doing a live set too. Open Bar 10-11, no cover as long as you say the password at the door: "Lambchop"
Alice Russell : All Alone (Captain Planet Remix)
LMFAO : La La La (Chuck Wild Remix)
LMFAO : La La La (Beatards Remix)
B-Real ft. Damian Marley : Fire (DJ Ray Remix)
Bob Marley : Exodus (DJ Ray Remix)