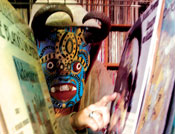 Check it out, the everbusy Future Boogie crew from Bristol have put up a new mix that I made for them and have kindly included a little feature interview on the true nature of "Gumbo Funk". Thanks for the shine guys!
Some tunes you'll hear on the mix: Last Poets, Ralfi Pagan, Patchworks, Gilberto Gil, Gaspar Lawal.
There's about three hundred pounds worth of other good music on the site, including multiple mixes from Gypsy Bogdan (of Turntablelab) who I'll be spinning with this Thursday – DEEP CRATES!
I'll put up some of the fruits of my Puerto Rico digging session this weekend, stay tuned…