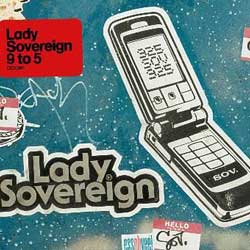 Lady Sovereign: Random and Chi Ching and 9 to 5
Taken from one bootleg download (2005) and two 12″ singles on Island (2005), respectively
I remember driving to work one morning last January. I was groggy and hungry and less than thrilled to be sacrificing another precious day of my life to the cause of a t-shirt slinging quasi-kiddie-pornographer. Just before I pulled into the company parking lot a song came on the radio: it was like a stripped down, beat-up dancehall joint. It straight thumped. It also sounded like it had been recorded in a dumpster with discarded kitchenware for instruments. Then there was the driving, urging tone; the unmistakably British voice, plowing through, stomping on, singing, rapping, squealing over the roll of the track. When the filtered, tinny chorus finally hit, I was sold: "Sunshowers…" I sat in my car and listened and when the track ended I turned the radio off and went to work. But I couldn't get the song out of my head.
Within a few months of that day, M.I.A. blew the f up. She has since appeared on at least a dozen major magazine covers, sold out shows across the country, cut a track with Missy Elliot, and has recently signed on to open for Gwen Stefani in what will be probably be one of the biggest U.S. stadium tours this fall.
Last night after the show in Hollywood, my friend Ben, who had only discovered M.I.A a couple months back, looked visably shaken. "Where did she come from?" He just couldn't wrap his mind around it. The show last night was that good. People filed dumbstruck out of the theatre, shaking their heads. I'll keep it simple. If you don't know, now you know: BUY HER ALBUM. SEE HER LIVE. It's like watching an '87 Chuck D on speed, in a hundred pound female frame, rapping all Brit-stylee over booty bass beats. WORD!!!
I'm not posting M.I.A. tracks. For one, you've probably heard 'em already (if you haven't, The O.C. (I refuse to link The O.C. on moral grounds) is featuring her in few days–yeah, she's that big). And if not, you better just by the whole damn lot of them. 'Cause I'm not gonna start ripping apart the album.
What I will give you is a taste of some very interesting competition. Lady Sovereign is 19 (!#@$!!), also British, white, and perhaps the rawest female rap vocalist I've heard since Jean Grae. But unlike Grae, who brings her brilliant lyrics over a rather predictable framework of straightforward hip hop beats, the S.O.V. brings her fire over whateva. Dub-stepper jams, garage bombs, straight grime. And she kills ish every time. Plus, she's got that uncanny gift for stunningly fresh hooks. Hear this: this girl is going to be big. Maybe not M.I.A big, but big nonetheless.
She busted out like what! as one of a handful of artists featured on the Run the Road compilation that dropped seven or eight months ago. She's sharp as a tack, lyrically versatile and can drop a battle rap like I ain't heard in a minute. Rumor has it she's hitting the States this winter. Could be the next British Invasion… stay posted.