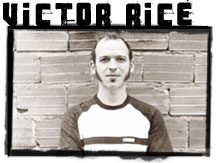 Victor Rice : Monster Sound and Portu-Bomb
Captain's Crate EXCLUSIVES! Recorded live a couple of months ago at Studio BPM in Brooklyn
Last night marked the monthly return of DUB NIGHT at Studio BPM, one of the illest underground venues in BK. Dr. Israel alongside the Dub Nomads with my boy DRM spinning 45's (just back from his first national tour). The custom crates delivered massive bass, and I decided I definitely need one of these for my next live performance.
These songs I'm putting up today come from the live sessions with dub guru Victor Rice that took place during Dub Night a few months back. Victor set up his reel to reel, his mixing board, and proceeded to mix live dubs direct from reels of music that were recorded with reggae bands around the world. "Portu-Bomb" features a Brazilian combo (I believe from Sao Paulo), grooving about as hard as I've ever heard from any South American reggae stylists. Victor has done production and engineering for the likes of The Slackers and the Toasters among many others, and definitely knows how to hold an enourmous spliff in his lips while freaking the mixing board. I actually don't know the names of the songs or the bands who made the sounds, but I figure that's not really as important in the land of VERSIONS. You can also hear the occaisional vocals from dee jay Treasure Don (I'm pretty sure that's his name).
Nice it up, and check back here for info on the next DUB NIGHT – night – night -night – night…
Turntable Lab picked up The Gumbo Funk E.P. -JEAH! cop that shiz and help support your everloving Captain.
Also, the mix I made for Futureboogie.com is finally up in our Loose Tapes section. It's called the Radio Freedom Mix. ill vibes.