Al Williams, George Jackson, Hi Records, La Beat, Northern Soul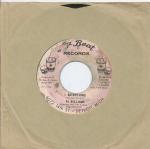 Al Williams: I Am Nothing
Taken from the 7″ on La Beat (1966)
George Jackson: Aretha, Sing One For Me
Taken from the 7″ on Hi (1972)
I've paid a lot of money for a record. A month's worth of groceries. A brake job. A plane ticket (on Jetblue). I would usually keep this kind of financial information to myself. For starters, I guess it ain't really anybody's business. And for seconders, well, most people just couldn't possibly fathom dropping that much cash on a flimsy piece of black wax–present company excluded, I presume.
There is a difference, however, between spending a hundred–maaaaybe two, if it's extra sick–and tapping one's bank account for, oh say, $2316. 78. Just for example.
Two days ago an Ebay auction ended. When the dust cleared, one lucky(?) bidder could claim ownership of a seven inch circle of vinyl (Condition: VG to VG+), recorded in the year 1966 by a man named Al Williams. That same lucky(?) bidder could also claim bankruptcy. $2316.78…
Here's the beauty of it: The seller had loaded a sound clip of the record onto the auction site. I'm not sure whether or not he meant to put up the whole song, but in any case, being the savvy downloader that I am, I jumped all over it. Now it's yours. So for all of us who don't have a few months' rent to throw around, I offer you this. A rich man's music, for the masses. Pure, sweet northern soul. All two thousand dollars worth.
The other track I'm putting up today probably sells for a bit less on Ebay (about 2,298 dollars less). Like the Williams tune, it was only released as a 7″, though undoubtedly as part of a MUCH larger pressing. George Jackson recorded only about twenty singles over the course of his solo career ('63-'78), but DAMN if this song doesn't just remind me why I started listening to soul music in the first place. Trademark Hi Records sound with Jackson's beautiful tenor waxing nostalgic on the Queen herself, Ms. Aretha Franklin. His empassioned reverence. His sorrowful voice. Hey George, sing one for me…
As a side note, I wonder which of these two songs I'd rather be stranded with on a desert island. I certainly like the Al Williams track. But I think I'd rather have the homage to Aretha and an extra two G's in my bank account… Although, I guess if I were on a desert island, my bank accound wouldn't matter much.