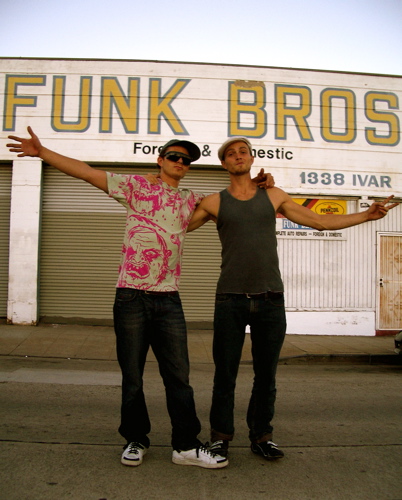 Captain Planet & Murphy's Law : The Funk Brothers Mix
(the link works now!)
Bad news: The summer ends. Adios to the concerts in the park, the beached out Sundays, all 31 of Baskin Robbins' flavors.
Good news: Your favorite blog celebrates a lengthy hiatus and 99 epic, soulful, funky, beat-heavy, smooth-groovin', mind-meltingly original posts with a impromptu sibling collabo mix. Murphy and the Captain working a broad pallet of delightful tunes into a thirty-two minute sampler. No crazy mixin' here–just good music live and direct from the City of Angels…
It's probably no substitute for the euphoric swell of ice cream on a summer day, but then, what is… We offer what we can–the Crate's own specialty menu: 11 flavors of delectable listening.
Bayete Umbra Zindiko: Don't Need Nobody
Fugi: Mary (Don't Take Me On No Bad Trip)
James Brown Band: Just Enough Room For Storage
Marlena Shaw: Woman Of The Ghetto
Bobbi Humphrey: Jasper Country Man
The Sylvers: We Can Make It If We Try
The Temprees: People Make The World Go Round
Omar: Get To Know You Better
Raphael Cortijo y Su Bonche: Tiempo De Amor
Aloe Blacc: Patria Mia
Strange Fruit Project: Under Pressure