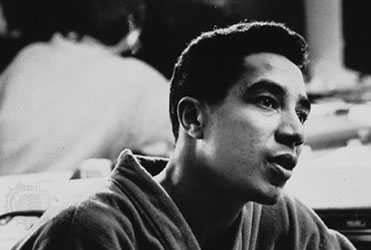 Smokey Robinson: Just My Soul Responding and Silent Partner In A Three-Way Love Affair… Plus a BONUS! Virgin Man
Taken from the albums Smokey and Pure Smokey on Motown (1973 and '74)
If there's one thing more impressive that an unmined soul gem by a nobody group on a podunk label, it's an unmined soul gem by one of the most prolific R&B acts of the 20th century on perhaps the most influential label of the last, uh, millenium…
Introducing, for your delectation, Smokey Robinson and a few of his lesser known miracles.
There are so many things that slay me about Mr. Robinson, I'd be doing my fanaticism a disservice by trying to dissect them all. But here are three good reasons that you, too, should adore this man and his music:
1) No joke: sometime in the 60's Bob Dylan called Smokey "America's greatest living poet"… And you're like , Uh, come again? And then you start listening–I mean really listening— to Smoke's music and it's like Dozier-Holland-who?
Even if the tender-hearted bard had stopped cold after penning "Tracks of My Tears" (god forbid!) I might have been sustained through many a lonesome night. But he didn't stop; he kept right on going. In addition to masterminding a catalogue of hits for himself (and by proxy the Miracles), he also penned classics for The Temptations, Mary Wells and a handful of his other label-mates, that would ensure for Motown not only popular longevity but a true creative legitimacy that many labels of that era and of that size couldn't have hoped to support.
2. When I was in high school in the Bay Area–perhaps still?– Smokey hosted a weekly call-in program on 98.1 on which a person so-inclined could ring up the station to discuss romance issues with none other that the love doctor himself. For clarification: once a week you could call Smokey Robinson on the telephone to consult him in regards to your relationship woes. Top that.
3. Finally. Al Green understood it. D'Angelo got it. Smokey wrote the formula: falsetto falsetto falsetto.
Both of these albums can be found for a buck or less at a flea market near you.
And now I can't write anymore. I'm listening to these tracks on repeat and I think I might cry myself to sleep. 'Til next time.