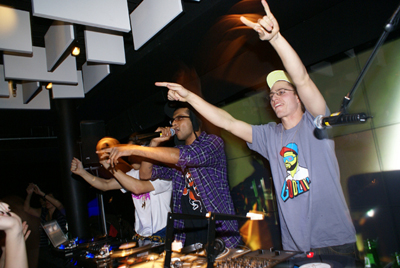 Nephews Of Phela : Mulah 2
taken from the whitelabel 12″
Red Astaire : Move Yo Ass (at +6 speed)
taken from the whitelabel 12″
Elvis meets The Wailers : Crying In The Chapel
taken from the whitelabel 7″
SCANDINAVIA RUUUUUUULES!!!!!! That short little trip was undeniably rad. The people were amazing, the clubs were packed, the clubbers were bouncing, the weather was not nearly as cold as we thought it would be (I see you Al), and I exceeded my longest running stint without sleep by 48 hours– which made for a grand total of about 4 days non-stop! I'm still recovering as I sit here at work and daze fondly back into thoughts of fastfood waffles and afterparties of afterparties with endless hash spliffs that don't get you high and rolling nordic hillsides crowned with actual wooden windmills! I just pray that the people who readily invited us back keep up their end of the deal. After two days in NYC, I'm ready to return.
We successfully managed to meet Freddie Cruger aka Red Astaire, who's got a new album coming out shortly. Not only is this man a genuinely good dood, but he was open and encouraging enough to record a track with us in the few hours that we spent together at his studio. It ain't finished yet, but it's a start! Let's collabo some more mang…
And we also finnagled our way onto Tommy Tee's National Rap Show in Oslo. Freestyling and previewing some of our newly written material on air was a high point as well. So much goodness. It put me in the mood to give back, BIG time. So, here are some surefire jams that have been in my sets as of late. Enjoy em. And party like you're Henrik, a regular Crate reader in Oslo who showed MAD love at club BLAA– where were you for the last beer of the night?
A quick note on the tunes: all of these superfly remixes are available at the everbumpin' Turntable Lab. Cop 'em while you can.
PEACE.