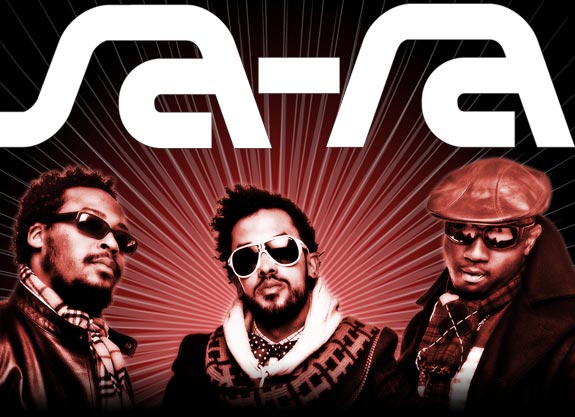 Sa-Ra Creative Partners: Hollywood, Starwarz and Nasty You
Taken from the forthcoming album Set-Ups And Justifications, coming soon…
It kinda snuck up on me. Like, Luke, the hopelessly uncool kid in my sophmore class who went away to Europe for the summer and came back in September as Luc, with tight pants, a penchant for cloves and a certain bohemian je ne sais quoi. I always knew who he was, I just never expected him to, like, get hip.
And now this: L.A. has returned from an extended hiatus (school let out in 1962), and all of a sudden there's a Downtown, a (moderately) functional Metro rail line, and a music boon that begs the question–just like I asked all those years ago of Luc in his black and white striped shirt and angular sunglasses–"Where did this all come from?"
If you're to believe Sa-Ra, an extraterrestrial trio with terrestrial ties to the City of Angels, it came from another planet.
Since their first single dropped more than two years ago, heads have been following closely the uncanny path that Sa-Ra has traveled. They burst onto scene like a left coast Funkadelic with a brazen Hollywood attitude and a Dilla-esque drum kit: all squelching synthesizers, sultry vocals and bottom-end fatness. With a relatively scant few individual releases (two singles), and a handful of notable remixes and one-off appearances (Medeski Martin & Wood, Daedelus), by early last year, the producer triumvirate had generated enough excitement to sign with a guy named Kanye West, on his G.O.O.D. Music label, and had released their first 12″ as a revamped hype group with a cleaner hip hop sound.
And the hype? Justified. But fans (myself included) began to worry that Kanye was exerting a stifling, if well-intentioned, force on the genre-busting trio. What happened to galactic vocal manipulations, the gritty disco stomp? The problem for a group like Sa-Ra, who early on positioned themselves as an other-worldly sound machine bent on defying proper classification, may be living up to the standard they set for themselves.
With their first full-length release looming on the near horizon, they've found a middle ground of sorts. Neither as purely novel as their earliest stuff (maybe it's just 'cause more folks are doing the synth-hiphop- neo-Prince funk now…), nor as reductive as their first G.O.O.D single, they've managed to successfully forge a continuation of their sound while ostensibly leaving room for more growth down the road.
I mean, that was their problem from the outset, right? Too much too soon. Well, now they seem a little self-conscious of their own might, and have dipped back into their old bag of tricks (vocoder, multi-layered vocals, dirty synth stabs) to produce a work that is entirely dope, if not transportative.
The real growth for them here, is that their sound has begun to feel uniquely L.A.–and I mean that in a good way. There's some of that DFA urban sleeze going on, but tempered with a uniquely unpretentious Roger Troutman, Cali flavor. The result is laid-back, bass heavy driving music that makes for a great late-night soundtrack on a wide So-Cal freeway.
So the record may not be perfect. And Sa-Ra is human. But I've never been so proud to be an Angeleno.
UPDATE! UPDATE! UPDATE!
Okay. So I really missed the boat on this one. The songs posted above are all from an advance promo EP that I received several months ago. I kept meaning to post it, but procrastinated and procrastinated and procrastinated so that by the time I actually got around to it (aka. yesterday)… the full length LP, The Hollywood Recordings had already dropped! Stymied!
There's bad and good news about this.
The Bad News is that the LP is a bit of a disappointment. They've recycled several of their now years-old early singles and sprinkled them in amidst a diverse but ultimately unimpressive display of the Sa-Ra product. (That they put Capone N' Noreaga on one of the tracks is a real head-scratcher…) And a lot of it feels like filler. There are certainly some notable moments: Bilal (god bless the return of the Gifted One!) steps up to deliver niceness, and a collabo with Erykah Badu and Georgia Anne Muldrow is a sultry success. But on the whole, The Hollywood Recordings leaves something to be desired.
The Good News is that none of the songs I've posted above appear on the album. Read: Exclusive. So wrap your ears around that. Suckas!