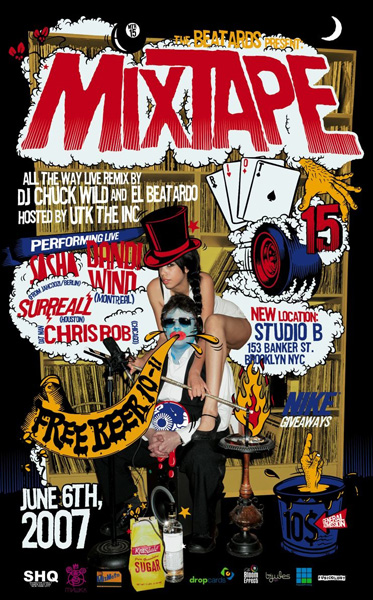 The BeATaRDs : DangDiggyDang
R. Kelly : I'mma Flurt (BeATaRdS Remix)
Public Enemy : Bring The Noize (BeAtARdS Remix)
Robin Thicke : I Wanna Love You Girl (BeATaRds Remix)
I don't normally like to do self-promo here in the Crate, however, it would be stupid if I didn't at least keep all of you loyal readers abreast of the latest happenings – not to mention that if you actually make it out to this party on Wednesday night, you will most definitely have a memorable experience.
So here's the schpeal. I'm in a group called ThE BeATarDs (Chuck Wild aka Capt. Planet aka Charlie B = ME). We do a monthly party here in NYC called Mixtape Riot!. The party is like nothing else you've seen before. We have 4 turntables, which allows us to do live remixes using out own original beats – we produce 'em in droves. These are not mash-ups, mm kay? We're not taking 80's tunes, or rock songs, and throwing hip hop acapellas on top of them. We're making beats in a WIDE variety of styles with the simple goal of making people move. THEN, on top of the live remixes, we perform our own songs – DangDiggyDang is an example of that (even though it's not finished yet). And of course, no mixtape is complete without a FULL line-up of hot-schitt artists that will make you proud to say you saw them before they went GLOBAL. This week's party is no exception:
Dandi Wind (Montreal)
Sasha from Jahcoozi (Berlin)
Chris Rob (ATL)
Surreall (Houston)
Southern crunk, throwback soul, future funk, and electro pop craziness all under the same roof for one night alone. For an added bonus, we've got a crew of B-Boys, a Double Dutch jump rope posse, and MAAAAD giveaways (Nikes, Mishka Tees etc.). Brought to you by ThE BeATarDs. Check out Mixtaperiot.com for artist bios and more info. DON'T SLEEP. hope to see all you NYC area peoples at the spot: STUDIO B in BROOKLYN (oh yeah, the flyer has the wrong addy, it's actually 259 Banker – wooops).
And one final shameless plug: even if you can't come out to the party, you can help us out by voting for ThE BeATaRdS at the URB Magazine NEXT 1000 contest. Thanks!