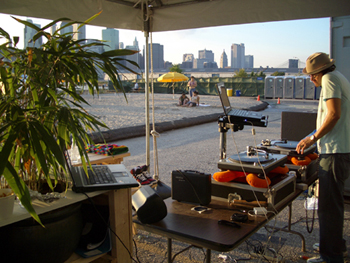 (^^^random image of my boy Cato at a warm August DJ gig we did together on the banks of the East River)
Passport Broadcast from 11.12.2007
Passport Broadcast from 11.05.2007
People have been asking for recent radio shows, which is great, but the thing is, you can bypass the middleman (which is me) by going directly to the WNYU website. The station has a really handy automatic archive system that allows listeners such as yourselves to download shows that you missed live. I realize it can be a little confusing if you've never done it before, so I'm gonna outline some easy-to-follow instructions to make it a bit simpler for you.
1) Once you arrive at the www.wnyu.org homepage, click on the "ARCHIVES" link in the upper left box.
2) You will then see a "PROGRAM" pull-down tab just beneath the WNYU header at the top of the page. Beneath that there will be a list of the most recently archived shows. Feel free to peruse the rest of the archive containing other great shows (I reccomend "Beats In Space", "Plastic Tales From The Marshmellow Dimension", and "Tunnel One").
3) If "Passport" is the show you seek, then simply find that name by holding down the "PROGRAM" tab, and then select it.
4)Finally, a list of recent archived editions of "Passport" will appear in chronological order with 3 different little icons next to the "Passport" show title. Click on the icon that looks like a little computer (I think that's what it is)– it's the middle icon.
Bingo! Your weekly international audio exploration starts reconstructing itself bit by bit on your desktop. Sorry if I'm sounding patronizing or like I'm going into way too much detail about something seemingly self-explanatory. Thing is, I've directed people there before and they haven't figured out how to download the shows, so hopefully this will help them.
Artist "Track" Album Title (Label)
Playlist for 11.12.2007
(*a note about this show: the archive recorded 90mins of audio rather than 60 on this day, so there's a half hour of the following show [which is also cool] after mine ends)
Oriental Brothers International "Otu'Nwa" S/T (Decca)
Som Nossa de Cada Dia "Tinta Presa Fosca" Procura Da Essencia (Edito Princeps)
San Ul Lim "Track 3" San Ul Lim 3 (SRB)
Unknown Thai Orchestra "Song #1" (Mississippi)
Jose Mangual & Patato Valdez "Guaguanco" Understanding Latin Rhythms (LP)
Sonora Dinamita "Bongo, Bongo" La Explosiva (Fuentes)
Tabou Combo "Courai" 8th Sacrement (Mini)
Youssou N'Dour "Bajjan" Rokku Mi Rokka (Nonesuch)
Soul Brothers "Bayeza" Mantombazane (Masterpiece)
Suns of Arqa "Ananta Snake Dance" The Indipop CompilAsian Album (Virgin)
Chidanand Sharma & Indira Pal "Baal Samay Ran Bhaksh" Bhakti Keertan (Fantasy Sounds)
Playlist for 11.05.2007
Sergio Del Rio Y Su Conjunto "Mama Loo" Latinamericarpet (Sublime Frequencies)
Quinteto Violado "Asa Branca" S/T (Philips)
Keronchong Salina "Nona Manis" Vol. 2 (Philips)
The Ramblers Dance Band "Ekombi" The Hit Sound Of The Ramblers Dance Band (Decca)
Nuta Jazz Band "Salamu Zako Nimezipata" Zanzibara 3 (Buda Musique)
Meirelles E Sua Orquestra "Fio Maravilha" Brazilian Beat Vol. 5 (London)
Willie Rosario & His Orchestra "My Favorite Things" Boogaloo & Guaguanco (Atco)
Totem "El Tabano" S/T (Vampi Soul)
Zoo "Samedi Soir a Carnouet" S/T (Bacilus)
San Ul Lim "Track 1" 3 (SRB)
Asha Bhosle "Dil Dil Dil Kabhi Dil De Bhi To Do" Dance Disco Dance (EMI)