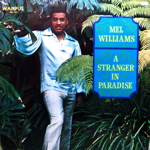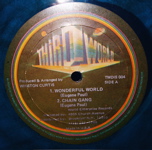 Mel Williams : With A Little Help From My Friends
taken from the album "Stranger In Paradise" on Wampus (197?)
Eugene Paul : Chain Gang
taken from the 12″ on Third World (198?)
I don't know a nickel's worth about either of these artists, so I won't front like I do. But both of them offered me a much appreciated respite in a time of need. I love how Mel has completely changed the tempo and swing of the whole song. Despite the poor recording quality, he really strikes a nerve when (right around 1:35) he lays behind on the beat and then jumps right back on top of it. The Eugene Paul cut, produced by Winston Curtis, has some serious gall to even dare take on a classic of such epic proportions. And while the production quality here might also distract some listeners, by the arrival of the first verse, I was entirely sold. When else has Sam Cooke received the raggae version? I'm running a blank. The 12″ also contains a nice rendition of "Wonderful World" and a not so nice B-side called "Rock Me".
*** ALSO CHECK THE BLOGROLL UPDATE! ***
Finally. Some cool new ones I've been checking are added to the list at the right and some that are now defunkt or infrequent have been removed.
Kikin Bakk: more funk, soul & latin heat.
Missing Toof: electro, mash-up & dancefloor food.
One Day Later: home of U-Tern and his boogie & electro selections.
DJ Delights home of DJ Anonymous and a wide array of danceable tracks.