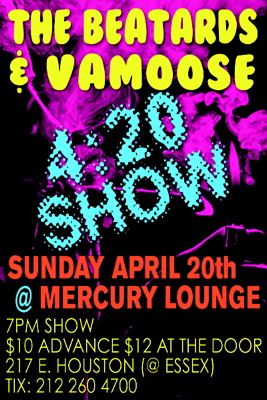 Erykah Badu :Cleva (Captain Planet Smarter Samba Remix)
taken from the upcoming 12″ on BSTRD BOOTS
(available as DL for a limited time only! then you gotta buy it!)
YO!!! I miss this blog. Been way too busy with other hustling these past couple weeks, but I promise to return full force next week. In the meantime, feast your ears on the latest remix and come out to see my band THE BEATARDS tonight at Mercury Lounge. We're joined by extended family members Vamoose. If you don't know by now, then you need to get wise 'cause we know how to turn a show into a party.
And yeah, if you haven't yet, join our FAM CLUB for just $8 and get our full-length CD in full-color, super-stunning, digi-pack vibrancy. It's SOOOO worth it! On top of 12 original Beatards tunes, you get a handful of our remixes and tracks from our friends like Santogold, Stephanie McKay, Jahcoozi, Roxy Cottontail, Kid Acne, Vamoose and more!!!