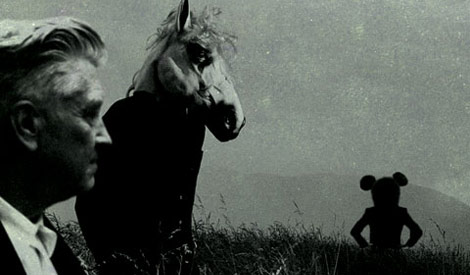 Danger Mouse is back with a new project  – this time teamed up with Mark Linkous of Sparklehorse, and David Lynch in the mix with some visual contributions as well. The music does not dissapoint. The two musical masterminds wrote the songs in collaboration with the variety of vocalists they feature from bands like The Shins, The Flaming Lips, the Pixies, Iggy Pop and others, and each of the singers brings a bit of their own style to the largely dark and melancholy tracks.
David Lynch, whose contribution takes the form of a limited edition book of photos to accompany the album, also does right by them. But I use the term 'album' in the loose sense, since while the limited edition package includes a custom designed CD, there's not actually any music on it. Yes, you heard me, it's a blank CD-R. Due to legal disputes with EMI, the discs will be labeled: "For Legal Reasons, enclosed CD-R contains no music. Use it as you will." Very tongue-in-cheek. We like it.
You can preview the whole album on NPR, check the official site here, and maybe use google to help find something for that blank CD-R.
Danger Mouse & Sparklehorse
Revenge (ft. Wayne Coyne of the Flaming Lips)
Everytime I'm With You (ft. Jason Lytle)