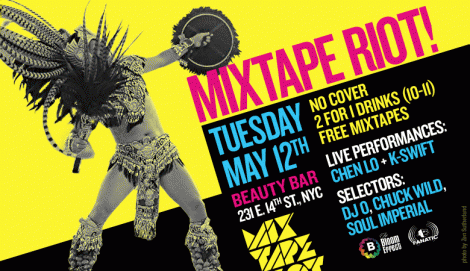 We're so on top of our game here at MTR that we left posting about our latest party til the day of. You've heard me say it before, but once again, we be foolish. If you're in the NY area though, and are looking for a serious Tuesday night get down, look no further. Tonight's Mixtape Riot party brings live performances from MC K-Swift and Chen Lo. Both of these guys are good friends, but that doesn't sway my opinion on their music at all- it's undeniably premium. Come out and hear for yourself! If you're one of the first 100 you'll get the latest limited edition mixtape- this time expertly woven together by the fathers of feel-good: Soul Imperial. And in case you needed any extra incentive, I'm sharing this fresh remix from The Rub's DJ Ayres. He's been putting out mashups and remixes consistently for a minute now, and they'rejust getting better and better. Check his website for more goodies.
Afrika Bambatta vs. Breakout : Planet Rock Unplugged (DJ Ayres Edit)
For more info on the party, peep here and rsvp for the fun of it.