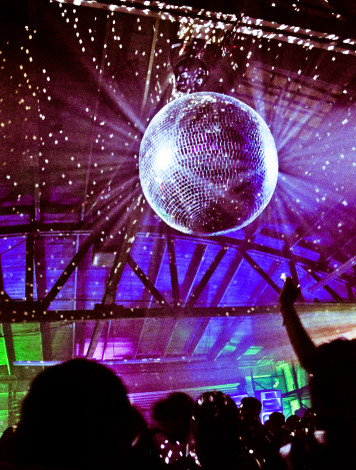 With the final landing of NASA's last space shuttle, a new generation space program is on the rise. Welcome to Virgin Galactic. I really hope that one day I can DJ in space. I truly believe it will happen. If so, it would still be a stretch for the dance floor to be as hype as what I experienced this past Saturday night, here on Earth, in a huge downtown warehouse, at the monthly Lift party. Resident Deejays Jeremy Sole & Wiseacre were joined by special guests Gilles Peterson & Nickodemus. It was church for music obsessed pagans like me. The photo above (taken by Farah Stop) is a lil taste of the beautiful mayhem that occurred. With today's selections, I'm taking one more small step towards the interstellar party to come. Also big shouts to KCRW, where you can hear Jeremy Sole on Weds nights, where I first heard multiple songs from this playlist, the same station where you can currently hear songs from my upcoming album! It is indeed a good feeling to hear your own music on the airwaves, especially when it's a station of such quality.
LDFD : Outtacontrol
19 years old and already killin the game.
Dark Sky : High Rise
funky.
Little Dragon : Ritual Union (Tensnake Remix)
Teeko ft. B. Bravo : More Than Just A Dream
my homie from the BAY coming correct once again. Check his full-length album here.
The Very Best : Yalira (Douster Remix)
Caribou : Odessa
Salva : I'll Be Your Friend
Mount Kimbie : Before I Move Off
Pantha Du Prince : Welt Am Draht (Die Vogel Remix)