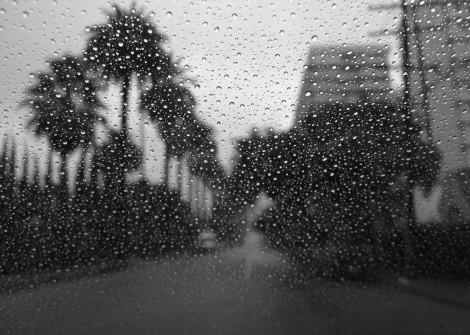 Having not seen real rain since March, I think I can safely speak on behalf of all plant life in Southern California when I emphatically proclaim "fuck yeah". I still can't get used to the subtlety of LA's "seasons". I'm from the land of changing leaves and Fall breeze, so I actually feel more at home when there's a gray day or two, or twenty (as is often the case in NYC). In celebration of todays downpour, here's a similar deluge of great new music.
The Stepkids : Shadows On Behalf
I've always had huge respect for Stones Throw records, but in the past year it seems like they can do no wrong! The releases keep getting better and this debut from The Stepkids is the truth. Psychedelic indy-rocker soul at its best.
Holy Ghost! : Hold On & Static On The Wire
These guys are representing classic, grimey, cracked out Times Square NYC to the max. As funky as Chromeo, but more lo-fi and waaay moodier. The whole album is a solid listen and the last track even includes a brazen cameo from Michael McDonald!
SoulParlor : Real ft. Colonel Red (Opolopo Remix)
wait, did someone just say Michael McDonald??? Real glad to hear something new from Colonel Red (who I haven't heard from in too long). I did a show with this guy back in like '06 and was blown away.
Trus'me : Bail Me Out ft. Dam Funk
While we're on a retro funk trip, it's only right to include a little something from the ambassador of 80's boogie, Mr. Dam Funk
Fool's Gold : Street Clothes
These Angelino lovers of afro-pop come correct with an interesting melding of 70's West African psych and 80's New Wave disco pop. I dig.
AM & Shawn Lee : Somebody Like You
Saw these dudes live last week and was extremely impressed, particularly with Shawn's nipple length white mane that shakes fluidly while he's rocking out on cowbell or shredding trippy guitar solos. Stay tuned for my remix of their song "City Boy" from the same album, dropping soon…
Casiokids : Det Haster!
I'm feelin this first single off the new album by this Norwegian electro pop  crew.
Jimmy Edgar & Luke Vibert : Disco
Very cool collabo from these 2 electro kingpins. The synths here would make Bernie Worrell proud, and I'm glad to hear a lil Beastie Boys sample floating in the mix.
Floating Points : Marilyn
Don't really know anything about this guy (or is it plural?). But from all the tracks I've heard so far, they have a real knack for the slow build.
Fatima ft. Floating Points : Mind
Less slow build on this one, but damn if this doesn't take me back to some late 90's era Erykah Badu or Jill Scott.