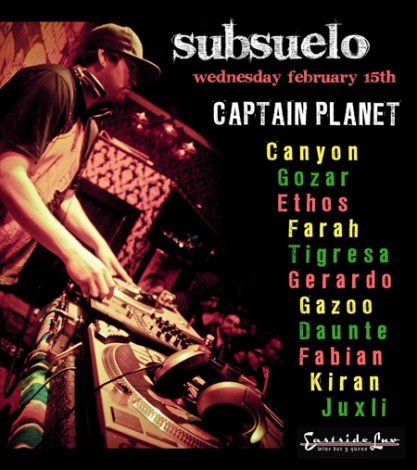 While I may not have a date for dinner tonite, I am in no shortage of love. Tomorrow I'll be the guest DJ at one of my favorite gatherings in LA- Subsuelo. it's no stretch to say I LOVE THIS PARTY. Great people, amazing music, perfect ambiance, live percussionists, and flamenco dancing on the bar. I will be joined by my ridiculously talented homies Brit Laurén & UTK who will dropping vocals while I get funky on my sampler. Heavy global bass is the main entree, but you best believe I'll mix in some golden oldies and special surprises as well. Anyone in the general vicinity should get wise and head over there mañana. This place fills up, so arriving early is advised, and definitely be ready to sweat. Instead of chocolates or roses, I'm giving you a bucketload of bangers that will probably get played.
Pedro Ramaya Beltran : Soy La Cumbia (Thornato Remix)
another heater from this Cumba Mela crew member.
3Ball MTY : Black Moon (Sheeqo Beat Remix) & Todos A Bailar
heavy electro guaracha styles from Monterrey, Mexico. These guys are kinda ruling things down there at the moment.
E.L. : Obuu Mo
Funky shit from one of Ghana's tallest rapper/producers. It's hard not to gyrate when this comes on. Shouts to DJ Gozar for puttin me to on this one!
Double : Tatali (Los Carlos Kuduro Remix)
Brand spanking new from Akwaaba Music.
Solo : Congaloid
takes a little while to get going, but by the 3 minute mark this one is pure percussion insanity.
Major Lazer : Bruk Out (Destructo & Uberzone Remix)
not sure how I slept on this remix. Just takes the og to a-whole-nother level.
Kes : Precision Wine
Pure Trini carnival goodness. Takes me back to Eastern Parkway in Brooklyn on Labor Day.
Joyce Muniz & Shanti Roots : Cumbian Lolita
Cuuuuuuuuumbia! Been playing this one for a while now, figured it was finally time to share. Check out more from the always reliable Sol Selectas label run by my homie Sabo.
Thievery Corporation : El Pueblo Unido (Uproot Andy Remix)
Seems like my dude Andy can do no wrong. The breakdown/buildup at 2:30 is verging on symphonic.
Los Rakas : Copita de Champaña
It wouldn't be right to share music on Valentine's without at least one slow jam. Check the whole new Raka Love EP right here.