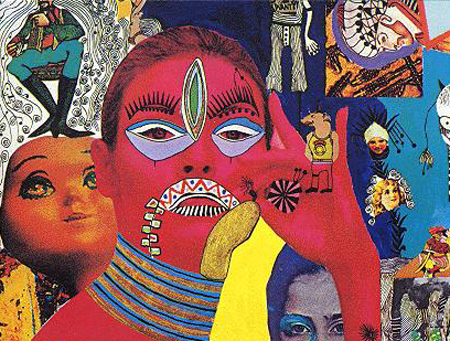 Maybe it's because I haven't had solid food in 8 days (back on the master cleanse), but this week's downtempo psychedelic soul installment seems super appropriate. I've been floating a foot and a half off the ground, and moving a lot slower than my normal bustle. Hope you don't mind slowing down with me for a minute while listening to these choice selections.
Robert Glasper Experiment : Afro Blue ft. Erykah Badu (9th Wonder Remix ft. Phonte)
the features may seem excessive when written out, but I'm so happy to hear these vocalists together on one song. Sure, sounds like it could be 2000, but that vibe will never not be good to me. Little Brother lives!
Miguel : Gravity & Kaleidoscope Dream
the general vibe of this album is more electronic & even kinda 80's rock-ish than I would have expected, but when the dude let's loose on some simple head nod grooves, sick songs like these result. There's also Adorn, which is amazing.
Chris Turner : Liquid Love (og version)
lying in bed, post coitus, this is exactly what your endorphin flooded brain fiends. I swear I know the sample, but can't place it… anyone help me out?
S3 (Miles Bonny & Brenk Sinatra) : Don't Stop
been liking what I've been hearing from Mr. Bonny lately, but the simple swingin production on this one takes it up that extra notch.
Maze Hill : Long Haul (LV Remix)
space is the place. I love how this track evolves. First heard LV on his (her? their?) excellent Scrimshire remix.
The Stepkids : Sweet Salvation
probably my favorite cut of the bunch today, and one I've been fiending since I first heard it on the radio a month ago. Absolutely love the harmonies and trippy breakdowns. Godbless you Stepkids.
Tame Impala : Mind Mischief
ok, now we're moving into straight psych zone, where these guys are the current heavyweight champs of the known universe! I haven't done it yet, but this album sounds like it was made to accompany a mushroom trip.
Diplo : About That Life ft. Jahan Lennon
I love how versatile this guy is. From producing for Beiber and Usher, to making the hardest electro bangers, to this rootsy psych shit. I can't lie, that's mad inspiring to me.
Superhumanoids : Too Young For Love
sprawling and grimey indie synth goodness from this group. And it turns out they're at the Echo all month including tonite, gotta check that.
Ariel Pink's Haunted Graffiti : Baby
these guys get extra points on the record nerd tip for doing a cover from Donnie & Joe Emerson.