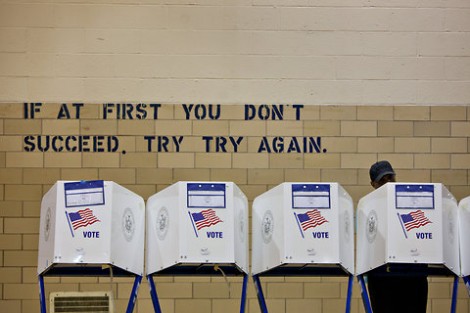 I don't care how fancy they try to make the ballot machines, voting still feels super old school to me. I know plenty of people who would argue that it's just a pacifying tool to keep the sheepish masses believing they have some minuscule hint of authority, when in fact we're all just puppets controlled by the higher powers that be… and while I like conspiracy theories as much as the next guy, I don't really buy all that. Being a lover of mostly everything old-school, the outdated machines and long lines in public school gymnasiums and churches actually add to the charming appeal for me. There also happen to be some pretty important local issues this year that I genuinely feel need to be sorted out before things get any worse. Anyway, this ain't a political blog, so I'll steer away from preaching and get on with the tunes that have absolutely nothing to do with politics aside from the fact they've been handpicked by my authoritarian rule in the land of mixtapopolis.
Rhye : The Fall (Maurice Fulton Alt Mix) & Open funky disco house rework from Mr. Fulton hits the soul train sweet spot
Alt-J : Breezeblocks I've been meaning to post this one for a while now, absolutely love it, and I want to give props due to the band for winning the Mercury
Miguel : Adorn (Cousin Cole Remix) excellent breakbeat remix for the early evening dancefloor from NYC's Cousin Culo
Cherub : Doses and Mimosas & Hold Me (ft. Dominic Lalli) thanks due once again to Marley for turning me on to these guys out of Nashville
Retro Stefson : Glow my homie THC sent me this catchy one from these Icelandic pop kids
Solange Knowles : Losing You  simple moody indie pop done proper. Produced by Lightspeed aka Blood Orange aka Dev Hynes. Really cool video too
Sky Ferreira : Everything Is Embarrassing and again, Dev Hynes on production. Reminds me of some of the better material from Jessie Ware. Starting to see a trend here?
Chico Mann : Luz Attack of the killer MANN! Get the EP if you don't have these songs.
DJ Nu-Mark : Oya' Indebure Uncle Nu done outdid himself on this latest 2-sider from his broken sunlight series (which is FREE!). The flip has a real nice cut with Quantic too.
José James : Trouble and a lil bit of mellow soul from Señor James to round it all out and try to keep us calm while we hope for the voting results to go our way…