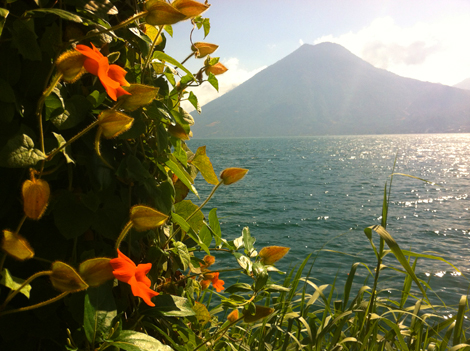 Alright, sorry for the brief intermission, but I was enjoying my damn self way too much- first in tropical Guatemala, and then on the snowy slopes around Lake Tahoe. Today's post is no best-of, but if you read this blog you already have a pretty good idea of my favorites from last year. There were a ton! Aside from the general lack of money in the industry at large (outside of the uber-pop single-slangers who monopolize most commercial radio), I really can't complain about the state of music right now. The things I was loving that I didn't post here, were the too-obvious ones that you probably heard a million other people raving about already (hello, Kendrick Lamar). Certainly no hater of best-of lists, check Anthony Valadez's for a good one, I was extremely honored to see my Mystery Trip mix included on the Sasha Frere-Jones 2012 list for the New Yorker. Yeah, I was as amazed as you. Apparently I have some highfalutin fans! So here's to another year bouncing past on a rushing river's worth of good music.
Rhye : Hunger & 3 Days
more from these 2 guys! If I did have a best-of list, they would certainly be on it.
Gramme : Too High & I Can't Resist (Leo Zero Remix)
simple and repetitive to the point where it's almost stupid, and that's precisely what makes it so great. EP is available here.
Late Nite Tuff Guy : Do I Believe In God
nice rework of one of my favorite Prince songs- and it still sounds futuristic!
Psychemagik : Dreams (Crystal Visions Remix)
while we're on a roll of classics getting re-worked, here's a nice tweak of Fleetwood Mac.
Kruse & Nuernberg ft. Stee Downes : Love Can't Break You Down (Shur-I-Kan's 80's Mix)
doesn't really sound too 80's to me, more like contemporary indie pop, which is certainly close, but not completely the same.
Jessie Ware : Running (Disclosure Remix)
Artful Dodger : Please Don't Turn Me On (Disclosure Remix)
couple great remixes from one of my new favorites in the world of house music
Plezier : Plezier Anthem
anthem indeed. This one kind of epitomizes the resurgence of 2-step / 90's house swing that I'm loving.
Mystikal : Hit Me
total wild card, but I was ridiculously happy to hear the No Limit soldier put this out, semi-fresh from jail.