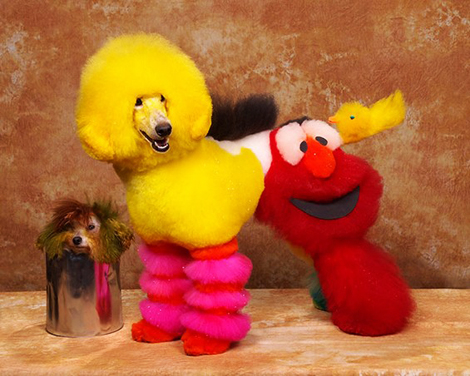 Came down with a nasty bug this week. Might be connected to my overwhelming disgust at the Zimmerman not guilty verdict, but this ain't a politics blog, so I'll spare you my rant. Instead, I've decided to share with you this heavy dose of new heaters in between consecutive nose blowing fits and coughing convulsions. Lots of latin & global bass tunes in the playlist, also partly inspired by the fun-as-hell Tormenta Tropical party that I did last Friday alongside DJ Theory, Oro11 & Paul Devro. Gotta keep my energy up for 4 more consecutive nights of DJ-ing this week, so hopefully these joints will keep me on my feet… If you want to see more bizarre pics of insanely groomed dogs, check out the spread by Ren Netherland up now at Juxtapoz.
Thornato : Gaita Gaita
serious anthem alert from my NYC homie Thor. Check out the full compilation on ZZK where this tune can be found.
Ondatropica : El Caiman Y El Gallinazo (Atropolis Remix)
dopeness runs in the blood, 'cause this one from Atropolis (Thor's cousin and Cumba Mela compatriot) is also seriously fiya
So Shifty : Rude Gal (ft. Paco Mendoza) & Rumba (Peligrosa Remix)
I'm loving these guys' productions and am very much looking forward to an album in the future…
Los Cojolites : Luna Negra (Uproot Andy Remix)
Kabaka International : Mangala Special (Uproot Andy Remix)
from another of my NY friends (and Que Bajo co-founder), Andy murked this whole worldwide mix. Cop the EP for FREEEEE
Novalima : Diablo (Xacosa Remix) & Mamaye (Seiji Remix)
taken from this dope new EP on Wonderwheel. Get it.
Octa Push : Afroinscope & Ali Dom ft. Braima Galissa
big shouts to DJ Nadi for puttin me on to this one. Very influenced by SBTRKT, but I ain't mad at that one bit.
Clap! Clap! : Hold On (ft. LSWR)
& Please Mother Rain Wash Our Souls From Human Evil
thanks due to Soundbwoy Surian for the heads up on this guy.
Elvis Crespo : Suavemente (Kennedy Jones Trap Remix)
certified dancefloor destroyer, you have been warned.
B.Lewis & Sango :  Não é Nada
Brazilian electro trap monster
L D R U : The Tropics
space music right here. This one makes me go dumb every time.