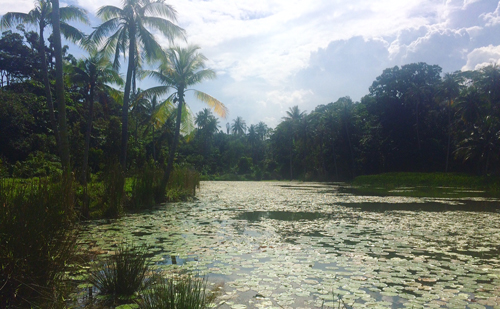 Just a quick installment of songs from near & far, intended to help carry you away someplace sunny. Most of this week's selections have been pickpocketed from my many DJ friends. Shout out to DJ Gozar, Maga Bo, Mr. Assin. Pic above was taken on the little island of Ubin, just north of Singapore. If you ever find yourself there, riding bikes on the trails through the jungle, look out for a beautiful Buddhist temple and ask someone there if you can feed the fish.
Sam Gellaitry : Long Distance this young kid is killing things right now
ÌFÉ : 3 Mujeres (Iború Iboya Ibosheshé) electro-roots from Cuba
FurmigaDub : Saudadidela electro-roots from Northeast Brazil, peep the whole collection
Sidestepper : Fuego Que Te Llama & Magangué I've been a fan of this Colombian crew for many years, happy to hear this latest effort
Tabu Ley Rochereau : Hafi Deo holy lord, this 10minute jammer from the late 80's Congo is pretty much heaven
Baaba Maal : Fulani Rock (Henrik Schwarz Remix) new album from Senegal's finest, produced by Radioclit, get's a nice deep dancefloor mix
DJ X-Trio & Calado Show : Acorda Nani the real deal from Luanda
Yuri Da Cunha : Atchu Tchu Tcha huuuuge pan-African hit from a couple years back that I'm just catching up with
St Germain : Real Blues new album from France's chillster supreme dives deep into African sounds
Matanza, Acid Pauli & Jo.Ke : How Strange (Nicola Cruz Remix) the man Nicola took this one to outerspace and back, BRAVO!