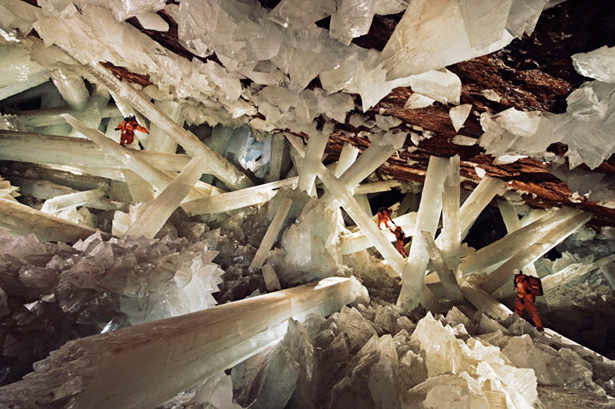 It's pretty easy to be disheartened by the state of affairs in my world right now, but I'm relying on my music to do what it always has done, since our ancient ancestors were banging sticks on stones and coming together around a campfire despite whatever famine was upon them, despite the sabertooth tiger that had recently stolen their sibling, despite the ice age that couldn't have been cozy before the invention of long underwear. But music was there and they were using it, not simply to escape their reality, but to create an alternate dimension right there around them, filling a shared space with positive energy while physically transforming molecules with rhythmic vibrations. When the problems seem immense, I often like to search the infinitesimal for light. Positivity is a transformational force no matter how small the act that produced it. I like to think that something as simple as sharing music can go a long way. For more information on the beautiful Cueva de los Cristales, pictured above, read here.
Disclosure : Molecules
glad to hear these guys singing on their own productions, always top notch
Bob Moses : Hands To Hold
deep soul from the circuitry, from this duo
The Acid : Ra (David Agust Remix) deeper still, this one takes you past the stratosphere thanks to this Berlin dj
Jungle : Time (Darius Remix) very nice dancefloor ready remix from this funky Frenchman
Kraak & Smaak : Mountain Top the ever trustworthy K&S
Detroit Swindle : Live At The Cosmic Carnival deep tribal percussive house music, thanks DJ Gozar for this one
Polica : Lime Habit very interesting alternative sounds on the latest album from this group
Santigold : Chasing Shadows & Before The Fire been waiting paitiently for the new Santi, and although I'm not crazy about every song, the good ones are really good.
Manatee Commune : Simple Lessons really beautiful organic vibes from this new artist on the Bastard Jazz label, check the full EP and stay tuned for a full-length soon.
Sam Gellaitry : Dreamscapes more heat from this wunderkind
Jack Garratt : Worry & The Love You're Given something about the old Irish folk meets moody electronic vibe here is really working for me