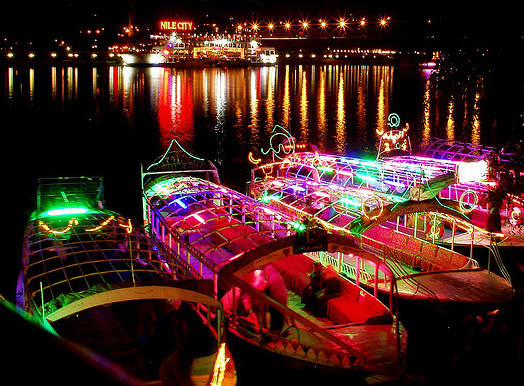 Welcome to the Nile by night. Throngs of little falouka boats, covered in neon lights, all compete to overpower your eardrums with their distorted car-battery-powered sound systems. What are they playing? Electro Shaabi. It's the highly auto-tuned Middle Eastern cousin of reggaeton, and I'm very happy to share some with you today. Finally back home in LA, I had just enough time to settle in, do laundry, and catch up on work, before leaving the country again tonight for the Caribbean! Next stop Honduras: can you tell I'm smiling as I type this? But before I bounce, I put together some recent gleanings from my last trip. A touch of roots, some slightly more experimental mid-east flavors, and a handful of top-notch electro shaabi for you. Outside of North Africa and the Levant, I think it would be pretty difficult to track some of these tunes down. Apologies for the lack of artist info and song titles, some of these come from bootleg CD's and I wasn't able to get my local friends to help translate everything before I left. If you have any info, please share!
Abadi Al Jawhar : Atshan (Thirsty)
a nice mellow bit of roots music from this Saudi oud master to kick things off
Elias Rahbani : Dance Of Maria
a classic break from the younger sibling of the legendary Lebanese Rahbani Bros. This family is semi-royalty in the mid-east musical lexicon. I've been looking for this LP since O-Dub posted it years ago, and was lucky enough to get a copy in Beirut for $10 from the son of the guy who produced Ziad Rahbani!!! (please excuse the record nerd freakout). Best believe I already made a beat out of this in my hotel room too!
Ahmed Fakroun : Soleil Soleil
another artist who I had known about for some time via disco edits that I had by Prince Language & Golem. Didn't find the original on vinyl, but this mp3 is still sounding nice.
Judah Warsky : Think Of Me (Acid Arab Instrumental Remix)
this French duo is doing some of the more forward thinking blends of electro-arabic styles with more classic house and acid sounds. This one in particular goes deeeep.
Hoba : Hagaraan Ala Al Shesha
one of the big chaabi hits, praising the glory of hookahs.
Ortega : Haty Bosa Ya Bet
one of the young punk stars of shaabi, a member of the group known as 8%
DJ Figo : Sa3it El Basha & Mahragan Agagaga
taken from a brand new EP I got thanks to my Beirut homie Tres who runs Audio Kultur mag
Egyptian Mystery Artists : Track 08 & Track 01
I wish I could tell you more. From a compilation CD. Track 01 sounds like a little kid singing with swag.
Helm : Hosanni (Acid Arab Edit)
great DJ tool or soundtrack for bedroom bellydancing
Palestinian Mystery Artist : Track 05
very serious flute solos going on here
Amer Zayan : Track 02 & Track 04
big current pop star from Lebanon, but damn listen to that crazy triplet swing!
Restless Leg Syndrome : Habibi
some Austrian dudes are sampling old school mid-east records and making dope beats like this
Mayssa Karaa : White Rabbit
first heard this dope Arabic version in the soundtrack for American Hustle, but got it on my trip from my homie DJ James Jocksmith