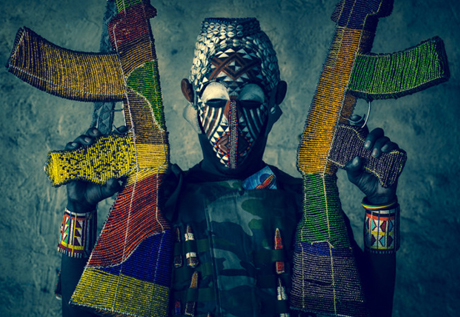 Brand new goodness coming from all angles right now. Get cozy and comfortable and let this fresh batch of tunes make sweet love to your aural canals. A little bit of head nod, touch of ass shake, and some deeper future soul sounds to keep your musical diet well rounded. Today's visual inspiration comes courtesy of Ralph Ziman, who's show "Ghosts" is up at the C.A.V.E. gallery in Venice right now (shouts to Nati Conrazon for the recommendation).
Gardens & Villa : Bullet Train
so glad to hear a new album from this Santa Barbara group. Once again, my favorite cut from the album is a laid back, flute-laden groove with super catchy riffs and infectious falsetto hook.
St. Vincent : Digital Witness
sharp edged, punchy horn pop with socially awkward lyrics is what this badass David Byrne protege does best.
Kenna : Relations (ft. Childish Gambino)
haven't heard a peep from Kenna in years, but he's back swinging with this mid-tempo sleezy party starter that also sounds very Talking Heads influenced.
Estelle : Maker Her Say (Beat It Up)
triumphant return of the reigning UK pop soulstress, going really crude and sexy on this one.
Jets ft. Jamie Lidell : Midas Touch (Machinedrum Version)
it's hard to be mad at this 80's influenced, synthy house Midnight Star cover featuring one of my favorite whiteboy soul singers.
Justin Jay : Le Voyou
this young LA based house producer is on a roll lately. Funky shit for the dancefloor right here.
Little Dragon : Klapp Klapp
YES. Definitively. Can't wait to hear the rest.
Jel : Look Up
hard edged downtempo for late night driving or being a creep on the bus.
Phantogram : Black Out Days
dark moody downtempo (ala Portishead) returns with a vengeance
Flume & Chet Faker : Drop The Game & What About Us
great collabo between some very promising talent on this EP