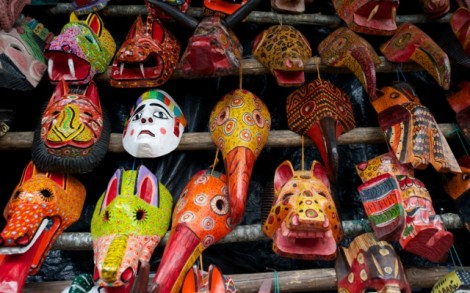 First off, if you're a person who likes things that are visually stunning, emotionally stirring, and creatively cutting edge, then I highly recommend watching Life Of Pi. The classic "desert island" or "stranded at sea" scenario that we all use to make essential lists, gets really weird when you start to imagine the inner depths of creativity that get explored while suspended in total isolation. I can't help but imagine what type of surreal, bugged out beats I would start to create in my head if I were in that position- forced to escape deep into bass and snares that only exist in brain waves. Anyway, today's batch of global goodies are certainly moving in the direction of what I think that setlist might sound like.
Tuesday Born : Kwabena
one half of The Busy Twist breaks out with this simple afro-tinged moody gem. More from TB here.
Batida : Alegria (Extended 12
really liking how spaced out this version gets. Check the EP here.
Zuzuka Poderosa & Kush Aurora : Pisicodelia (Nego Mozambique Remix)
my homegirl Zuzu is back spitting hot lava flows on this one. She's staying busy, and one of these days a proper collab will happen.
Rude Boy ft. Elvis (**updated info**) : Passa Passa (Schlachthofbronx Edit)
Potential Kidd : A Yah So Nice (Shlachthofbronx Edit)
2 big tunes from these continually genre-defying beatmakers. You can get a nice free ep of edits on their soundcloud.
DJ Demoledor : El Lorito Lloron
my boy Minimum Tek just got back from Barranquilla, Colombia and slipped a few bonkers champeta mixtape cuts my way. This one really stands out. Looks like this is the dude responsible.
Danny Deluxe : Sounds Like Oyelo
real nice latin edit from another LA homie, Danny Massure.
Clap Freckles : Aguilas del Monte
nice rootsy 3Ball flavored joint from this young producer
Gualajo : La Gallina Culidura (Thornato Edit)
yet another beautiful mix from my Cumba Mela homie Thor
DJ X-Trio / Zahara : Lengoma (Kaombo Remix)
found out about this Angolan producer/remixer from Boima Tucker
Mala : The Tunnel & Calle F
some really deep latin cuts taken from this recent Bronswood project
Chancha Via Circuito : Hipopotamo
Gevgelis, Karpis & Papas : Deropolitissa (Chancha Via Circuito Remix)
taken from the new free EP by ZZK's mystical Andean guru