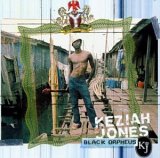 Keziah Jones : Kpafuca
taken from the album "Black Orpheus" on EMI (2003)
Ikwunga with Dele Sosimi : Di Bombs
taken from the album "Calabash" on Rebisi Hut Records (2004)
A while back now (I guess it's been 6 months already), I had the opportunity to bring the currently reigning Rugged-Afro-Diva-Empress (shown above in the ill VIA logo shirt), known to the world as Wunmi, on my radio show. We started the conversation talking about her involvement with a really good independent Afrobeat compilation called A.S.A.P., which donates proceeds towards the relief effort in Darfur. One of her songs is featured on the comp, along with a different selection from Keziah and the Ikwunga track I'm posting this week.
Thinking about New Orleans, I was reminded of our interview, and the similarly despicable show of inhumanity that continues to express itself in East Africa today. It also happens to be that she's performing tomorrow as part of the Afro-Punk extravaganza. I'm hoping she does a live version of the extremely firey single she recently cut with West African groove guru Franck Biyong. The scene will be extra heated tomorrow for sure, because just like Kanye, there's nuff folks who are sizzling and stewing and boiling over. And that's where music comes from- don't ya know?
Nigerian born Keziah Jones is "Captain Rugged". This album is nothing short of mind-blowing. Dead on. From future afro-funk, to broken soul, to political poetics- this album is waaaay more than just a Fela photocopy (no disrespect). Some of you may have heard the Osunlade remix of this tune on the Yoruba Soul Sessions album, but don't think for a minute that this track is the only gem on here. Solid and diverse throughout, Black Orpheus is one of my absolute favorite albums I've discovered all year. Help support this man, good music, and your own aural health by picking up a copy.
Ikwunga was unknown to me until the A.S.A.P. compilation, but since then "Di Bombs" has been in my heavy rotation. Sycopated, political, verse abstraction with a a classic groove from Dele Sosimi, who worked with Fela as a member of Egypt 80. Check out the entire Calabash album here.
Last tidbit: I got The Gumbo Funk E.P. into Ameoba music (both L.A. and S.F. locations). So If you're on the Left Coast and are paranoid of ordering CDs online or are just too lazy to start a paypal account, you can now go and hunt down the goods at a couple of my all-time favorite music stores.