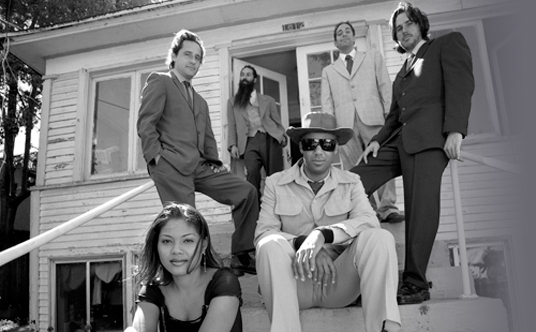 Dengue Fever: Tip My Canoe
Taken from the album Escape From Dragon House on Mimicry (2005)
Dengue Fever: Sleepwalking Through The Mekong
Taken from the album Escape From Dragon House on Mimicry (2005)
A contemporary treat for you all today. While the A.W.O.L. Captain hibernates through the ever-colder New York winter days, things in the City of Angels are heating up, in no small part owing to a smoking local band that caught my attention at an in-store performance at Amoeba Records a few weeks back.
With a five pieve backing-band heavy on crisp, break-laden go-go drumming (from Beck collaborator Paul Smith) and soaring organ work, Dengue had a lackadaisacal Tuesday night record-shopping crowd in full-on boogie mode. Front woman, Chhom Nimol (who could probably attract a sell-out crowd just by showing up) dropped a forty-minute set that swept the Hollywood crowd away. Suddenly, Sunset Boulevard seemed a very distant memory. And here we were, en masse, in a banging Cambodian discoteque cerca 1970. Woah!
The tracks I've posted for you guys are teasers; honestly, support these cats. Check out their website, see them live, buy their record. This is homegrown Gumbo Funk. Show love.