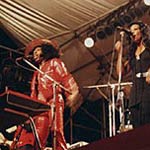 Little Sister: Stanga
Taken from the 7″ on Stone Flower (1970)
Little Sister: Somebody's Watching You
Taken from the 7″ on Stone Flower (1970)
The holidays are upon us. Family disfunction, overeating, et al. A time to celebrate the sometimes tenuous linkage of blood. A time to revel or wallow in the ties that bind.
For those of you who don't know, The Crate is curated by brothers. This post is in honor of the good Captain: a gentleman, a scholar, an inspirational beat-hunter, and a fine brother. Now if only we could get our funk collabo on, Stone-style!
Little Sister was a flash in the pan in their own right, but owing to their familial and sonic connection to one of the great funk outfits of all time, they will have a secured place in musical history. It doesn't take much in the way of abstraction to hear the Older Brother's influence on Lil' Sis. After the tremendous success of There's A Riot Going On, Sly Stone created Stone Flower records and released a handful (four, to be exact) of tasty singles recorded by his younger sister, Vet Stone and two of her cohorts, Mary McCreary and Elva Mouton. In addition to their limited solo material, the trio made notable contributions to some of Sly and The Family Stone's classic tracks: "Everyday People", "Stand!", "I Want To Take You Higher".
The tracks are solid and bear the inimitable imprint of Sly, who wrote and arranged all of Little Sister's material. ("Somebody's Watching You" would later be re-recorded by Sly and released on Stand!). In its initial incarnation, however, "Somebody's Watching You" will go down in the books as the first charted song in history (!) to used programmed drums. Eat your heart out Timmy Thomas.
You can check out Vet's website here. Give your fam a hug from Murphy; spread the love. Peace y'all.