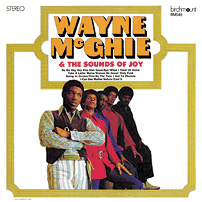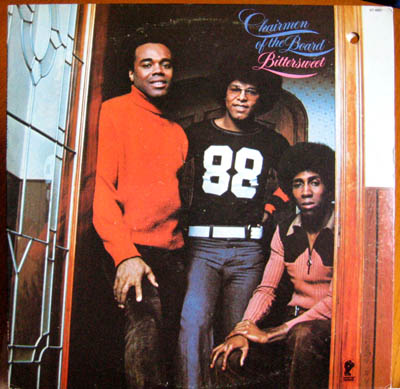 Wayne McGhie: Going In Circles
Taken from the album Wayne McGhie and The Sounds of Joy on Birchmount (1970)
Paul Kelly: Don't Burn Me
Taken from the album Hangin' On In There on Warner Bros. (1973)
Chairmen of the Board: So Glad You're Mine
Taken from the album Bittersweet on Invictus (1972)
Ah, the tenor croon… The plaintive wail of mid-range vocals straining at their uppermost threshold does something to me. The kind of tune that, try as I might, I simply cannot avoid singing along with. (My vocal faculties being what they are, it's an added bonus that I have an equivilent, if vastly underappreciated, tonal range. Let my neighbors tell it.)
First thing's first: So help me God, Wayne McGhie will get a full post on The Crate dedicated to his squandered genius. Until then, a teaser:
Jamaican-born, and later emigrated to Canada, Wayne McGhie recorded only a single LP, the self-titled, uber-rare masterpiece Wayne McGhie and The Sounds of Joy. It's a kaleidescopic, sprawling work that dips into rock steady, hard funk, pop R&B and slow burner soul throwdowns. In other words, and I think the Cap'n would agree, the very essence of Gumbo Funk. Throughout the record and it's variegated stylistic tones one thing remains absolutely consistent: the potency of McGhie's voice. Call me a sap, a song like "Going In Circles" slays shit. I'll hit you with some of the funkier bombs and dancefloor numbers on a later McGhie post. For now, grab your girl and hold her tight.
Paul Kelly really deserves a full post as well, but seriously folks, who has the time (ha!). After a few unsuccessful 7″ releases, the Florida-based soul man hit the charts in the early seventies with his highly-controversial "Stealing In the Name of The Lord", which brazenly defamed Southern Baptist preachers. On the strength of that release, Kelly signed with Warner Bros. and promptly went into the studio to record a strong series of tracks that were released initially as singles and later culled for Hangin' On In There.
Last up, we've got Chairmen of the Board. Headed by General Johnson (nice name, buddy, nice name), the Chairmen created for themselves a unique Detroit soul sound anchored by the Good General's wobbly tenor wail. Their biggest hit, "Give Me a Little More Time" (1970) is pretty jointly, however the real gems are on Bittersweet, released in '72. On this album you've got some gritty na-na with "Men Are Getting Scarce" (to be posted later when I find a less scratched copy of this record) and, my personal favorite, "So Glad You're Mine". (The opening kinda reminds of that Method Man track from days of yore, "All I Need".) It's pretty scuffed-up, but let's be honest, you're singing along anyway.