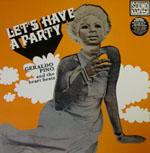 Geraldo Pino: Africans Must Unite
Taken from the album Let's Have A Party reissued on Soundway (2005)
Geraldo Pino: Power To The People
Taken from the album Let's Have A Party reissued on Soundway (2005)
Man, I done fell off. Apologies all around. Murphy has been working like an absolute hound dog on a new mix which, having just finished it, I can safely say is pure fire. Query: what you know about some 22nd century soul, jazzy hip hop, mid tempo disco stepper cuts, and funk break bombs sprinkled with a bit of latin sum'tin sum'tin? Seriously, whatchoo know about it? The as yet untitled mix will be available very soon on The Crate.
In the meantime take in some Geraldo Pino to satisfy the funky African in you. Brought to you courtesy of the folks over at Soundway, the above tracks are taken from Pino's second release, originally recorded in 1974. I learned of Pino via Michael Veal's Fela Kuti bio, in which Fela remembers his early encounters with Pino's pioneering Afro-funk. Particularly evident in the keys work of "Africans Must Unite", the influence seems pretty undeniable. Fela later recounted to another biographer, "After seeing this Pino, I knew I had to get my shit together. And quick!"
Born in Sierra Leone, Pino spent most of his musical career touring through West Africa with his heavily James Brown-influenced band, the Heartbeats. Eventually, they settled in Accra, Ghana, where, according to the record's liner notes, they basically owned the music scene. It was there that Fela first took in the fatback American-style funk drums that Tony Allen would later transform into Afro-beat.