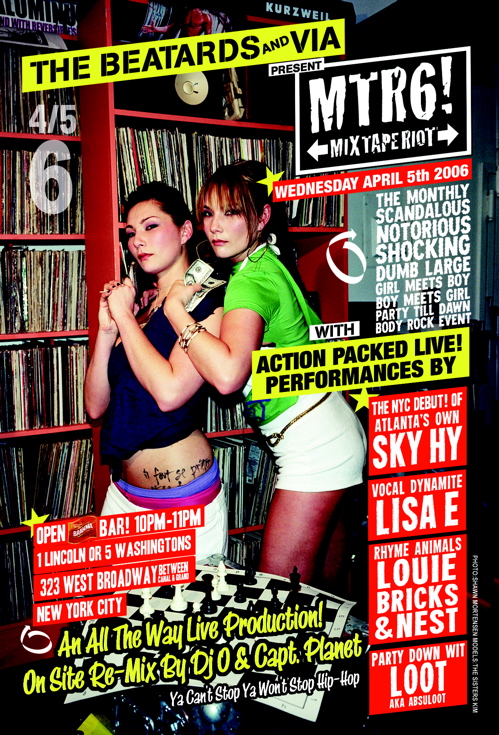 Jaime Foxx ft. Ludacris : Unpredictable (Captain Planet Remix)
Crate exclusive… you know.
Me and my boy DJ O (Beatards / Sway) have been planning this event for a minute now- it takes some serious effort to pull off a night with 4 turntables and 2 serato's (yeah, that's right, I'm hoppin' on that digital hover-wagon) doing all LIVE remixes with 100% ORIGINAL BEATS. We make lots and lots of beats all the time, and this is where we get to put them to the test. The above track is one of the myriad concoctions that came together during our hazy-brained experiment sessions. A bunch of live acts that you want to see too, showcasing all kinds of sickness- it's like the STD segment of Sex Ed, but fun, and with everybody dancing.
So if you're in NYC this upcoming Wednesday night, then come out, show your face, and give us the thumbs up by wiggling it to a booty beat we probably made last night. It will be many bonfires of hotness.
The Beatards and Via Present:
MXTR6! MIXTAPE RIOT 6
Wednesday, April 5, 2006
@ SOHO:323
323 West Broadway (b/w Canal & Grand)
21+ // $5
Free beer from 10 – 11
The monthly scandalous notorious shocking dumb large girl meets boy boy meets girl party til dawn event, with on-site remixing by DJ O & Captain Planet. Live performances by Sky Hy, Lisa E, Louie Bricks & Nest, and Loot.