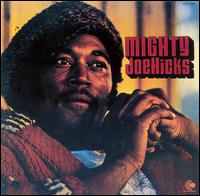 Joe Hicks: Train Of Thought and Ruby Dean and Water Water
Taken from the album The Mighty Joe Hicks on Enterprise (1973)
Okay, so first thing first: I've got enough Theraflu in me to sedate a bear, so be patient with me as I attempt to string together a few coherent sentences about the elusive Mr. Hicks.
Despite the fact that this record isn't all that rare, information on Joe Hicks is incredibly scant. Recorded on the Stax subsidary, Enterprise, the only real clues to his work are present in the "thank you's" on the back of the record. Hicks shouts out the prolific Stax writer/arranger Spooner Oldham (who he calls Old Ham), but more significantly Sly and Freddy Stone, who apparently collaborated with Hicks on some of his earliest sides. (In "Water Water" you can hear the pulsing, organ-heavy Sly Stone influence running deep.)
I found it interesting that in an exhaustive internet search, the only words I could uncover about Joe and his one release, were tepid (or worse) reviews that suggested the record's only worth lay in the delectable open drum break on the album opener, "The Team". Personally, I find that the album as a whole is wonderful, if a bit disjointed. From the psychaedelic space-funker "Train of Thought", to the almost Lynard Skynard-esque southern blues-rock of "Ruby Dean" there is a lot of soul, a lot of drums and plenty of organ to boot! No one would argue that his is the purest of tenors, but as a start to finish play, the record is a sure fire winner. Nay-sayers be damned!!!