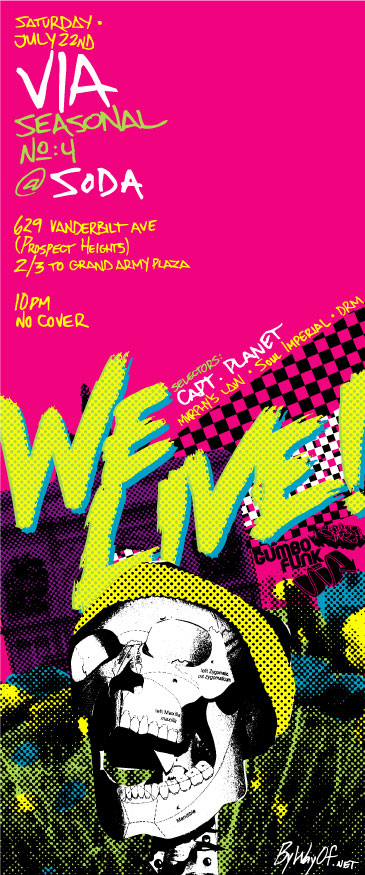 Gwen Stefani : LuXXXurious (Captain Planet Remix)
taken from the BOOTLEG REMIX EP OUT NOW! Look for The Beatards, buy that shizzz. Soon to be at Turntable Lab too.
Montell Jordan : This Is How We Do It (Murphy's Mash)
Montell, Kriss-Kross & Super Cat like what! Crate EXCLUSIVE!
Soul Imperial : People Twisted Everyday
From the upcoming mash-up CD by Soul Imperial that you can get at our PARTY!
Ironing your jeans. Giving the dog a bath. Helping your girl with a petticure. Bottom line: It's Saturday night and you ain't got ish to do. Why not make it a foot-stompin', beat-bumpin', air-horn-blastin', booty-shakin' affair. Brought to you by the good folks over here at Via, plus special guests DRM (Bastard Jazz) and Soul Imperial. The Captain and Murphy (aka Big and Lil' Bro) united on the decks for the first time in days. A good time is to be had by all. Drink specials and free giveaways–you know how we do.
VIA MEDIA PRESENTS:
We Live!
Summer Seasonal 2006
Saturday, July 22nd 10PM – 4AM
@ Soda Bar
629 Vanderbilt Ave. (b/w Prospect Pl. & St. Marks Ave.) – Prospect Heights, Brooklyn
21+ // FREE