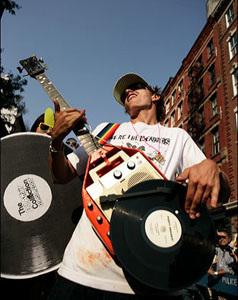 The Beatards : Scooby Snack and That's How It Is
taken from the upcoming mixtape…
So this is the reason my posts have been dwindling to a mere trickle lately- I haven't been lazy, just hustling like mad. For the past year or so, I've been doing parties and rocking shows with two partners in crime under the guise of The Beatards. We've also been recording songs and remixes here and there. Just recently, we went into HIGH GEAR. It's no strectch to say that I've never worked this hard on anything before- talking about 10 – 13 hour long days for almost 3 weeks straight. There's no real studio, and none of us have any "real" engineering knowledge, but we make the most of our little bedroom facilities.
These two songs are just the freebies, the official real deal will debut on our mixtape that's due to drop in less than 14 days (the hustle conitnues). I will definitely be hyping that and making it available here when it's done, but in the meantime, I wanted to give you a little something to bob your head to and remind you that I'm not dead.
Expect a mix of hip hop, pop, punk, and booty music that's not quite like anything you've heard. I'm not trying to toot my own horn here, it's just the truth. Our music, especially our newest songs, are just downright weird. See the Turntar in the pic above (don't try jacking our idea, shit is patented already fool), that's what I'm talking about. More of this gumbo funk coming at you soon…