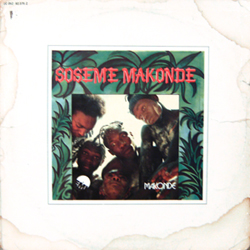 Makonde : Soseme Makonde & Manzara
taken from the 12″ single on EMI (1977)
Haven't been bringing out too many rares lately, but not because I've had any real trouble stumbling upon them. Even with my wallet as empty as it has been these past couple months, I've still managed to pull some pretty crazy finds. I've been pushing myself to stay out of record stores as much as possible, but when I pass someone standing on the sidewalk in the cold behind a underappreciated crate- I feel almost an obligation to pull out enough money to get them a cup of soup and a hot coffee (even if it ends up going towards a lil fire water in the end).
That brings us to this latest discovery of Swahili disco funk from '77. The cover was beat to hell which is probably why other people overlooked it, but the record (brilliant BLUE VINYL with a LEOPARD PRINT LABEL!) was kept in another sleeve and remained in great condition. Dropping the needle on side A was like opening the gate to King Kong's beastly lair. Deranged warbling mumbles and pounding drums are soon met with a pulsing bass, a simple chant, and then what sounds like a drunken Moog synth doing the running man. This is exactly the type of track that first inspired me to start this blog.
The B side, perhaps equally as incendiary, sounds almost like the Kenyan version of The Commodores "Machine Gun", but with fatter drum breaks. Turns out Kon & Amir unearthed this monster before me and even featured it on their recent Kings Of Digging CD for the BBE label- makes me feel pretty lucky about turning this one up. They did a nice little edit on their CD which extended the drum breaks, but I figured I'd give you both tracks unedited so you'll have to practice your Serato juggling skills if you want to keep the break rolling.