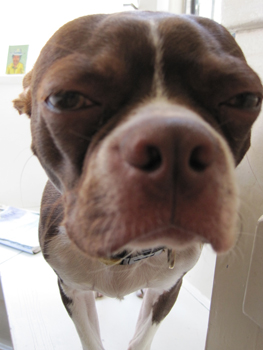 The whole city is slowing down right now. It's finally getting hot (proper NYC muggy nasty hot) and I realize I haven't made a single trip to the beach yet this Summer, which is entirely unacceptable. I have, however, been doing plenty of damage on the dancefloor. Today I'm sharing a few recently acquired goodies that have been helping me get my exercise (bars and clubs are the closest thing I have to a gym I suppose).
First up is a funky scorcher off the new EP from Pleasuremaker out of San Francisco. I've been trying to meet these dudes for eons it feels like, and somehow we missed each other once again while they were out here in Brooklyn last week. OZ, the executive producer of the EP, even came thru my weekly gig at Bembe and dropped off a CD but didn't introduce himself! I won't blame him because I very well may have been spinning salsa circles with a chiquita at the time. Get yourself the full EP for more of the good stuff, and check out the weekly Afrolicious party if you're out in SF.
Next up are 2 perfectly re-mixed tropical tunes that feel very appropriate this time of year. Uproot Andy is someone that you should definitely get familiar with if you're not already. He's put out a slew of great cumbia remixes, as well as a merengue-dancehall mashup and a electro-fixed version of Prince Nico Mbarga's "Aki Special" that I'm really feeling. This "Botellon" track (not just a jug) is maybe my favorite official release from him so far though. Sometimes a few simple touches is all it takes to turn a rootsy folk cut into a dancefloor banger, and that's exactly what he did here. Seeing him DJ a few weeks back, I was privy to hearing an un-released remix hi did for Chief Boima which was an absolute mind-melter, he told me it would be up on iTunes store soon, so keep an eye out for that and download his Guacharaca Migration mixtape (Aki Special included) or his recent mix for Diesel:U Music Radio in the meantime.
Finally, I got this Amphibious remix off the hollerboard a couple weeks back and it's been steadily growing on me. Again, it's just a subtle fattening of bass, extending of grooves, and adding some extra handclaps that turns this latin soul classic by La Lupe into something for a modern dancefloor fiending something new. There was a Sinden remix of this track that came out a while ago too, but that one just killed the soul of the OG for me, so I was really glad to get this take on it. More tracks from the Flavorheard crew can be copped here or on their blog.
Pleasuremaker : Stuffs His Pockets
Grupo Naidy : El Botellon (Uproot Andy Remix)
La Lupe : Fievre! (Amphibious Remix)