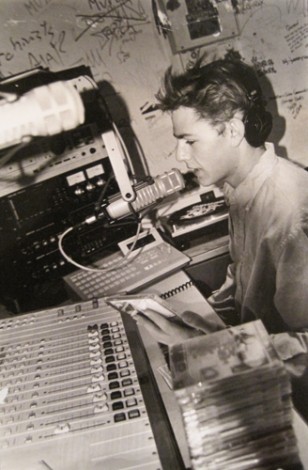 I realize many of you missed this era entirely since I've virtually stopped promoting it altogether here on the MTR site, but if you've been tuned in for a while you have probably heard about my weekly radio show: "Passport". For a long minute now, I've been faithfully spending one hour every week sharing obscure audible goodies from around the world. It's been seven years to be precise. Right around this time in 2002, a young and eager version of me first went live over the FM airwaves on 89.1 WNYU. Before that, the same 18-year-old that you see in the photo above was waking up on Saturday mornings for a 9am show that could only be heard on the internet! That was right around the same time that Napster first got huge, so I don't think too many people were listening, but you gotta start somewhere.
Over the years, I was lucky enough to have a number of great artists & DJs come through the station for live performances and interviews. So this past Monday night, instead of spending my last ever show playing some type of "Best Of"- which would really be impossible- I pulled together a collection of live recordings that I made and snippets of interviews from past guests. There wasn't enough time for me to get to everything I wanted to play, and some of the recordings get cut pretty short, but at least you can get an idea about what the show was all about. If you ever wondered where I developed my refined taste for funky Bollywood or fuzzed out Brazilian psychedelic sambas- this show was my laboratory. Thankfully, I found a similarly eclectic-minded music enthusiast to carry the torch and keep the show going in my absence.
Big shouts to all the people who tuned in over the airwaves and online, and many thanks to the artists who came through and shared their souls in that stuffy little sticker-covered studio, making the most of two not-very-well-maintained vocal mics. In this episode you can also hear interview snippets from Gilles Peterson & Charlie Gillett from the BBC, who have done and continue to do SO MUCH good work in promoting music from around the world!
Listen:Â