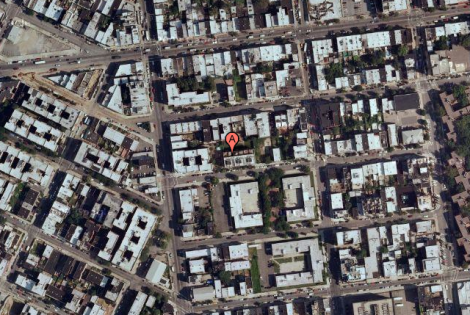 21 Ten Eyck St. was my first Brooklyn address. I can hardly believe it's been so long now (8.5 years). The place was a massive, newly renovated duplex with a HUGE shared yard and a community garden next door. I also find it hard to believe how hooked up I was! A lot has changed on that street, and in Brooklyn. Same day I moved in, local cops approached me and gave me a breakdown of the dealers on the block ("keep your eyes on the guy in the wheelchair"). Now this monstrosity is a block alway, sticking it's tongue out at the still-pretty-gully projects that you can see on the right side of the photo. More important than the space itself though, was that I lived with 3 other guys, all of them nasty musicians. We collectively built the space into extra bedrooms to fit us, went through 9-11 together, and had many epic nights of bad cooking and underage drinking (mostly Mustang tallboys as I recall). These guys always inspired me back then, probably one of the reasons I decided to follow the music path over the painter/multi-media-installationist one, and it's still very inspiring to see what they're up to now.
Sam Barsh, keyboardist extraordinaire and sometimes exhibitionist, has a bunch of different groups and projects that he's involved with, but a recent release of his called The Years has some tracks that especially need to be heard. Roomie #2 was Max aka "Traxxx" who went to high school with me- we started making music together at age 15. He's also always bouncing between bands, but as one of the 2 drummers for Francis & The Lights, he's showing off his exceptionally funky touch. Expect big things from these guys soon since they are opening up for Drake on tour (crazy, I know). Roomie #3 was Chris Bear, who just might be the origin of the band name Grizzly Bear. These guys have been huge for a long time already, doing stadiums on the regular, performing with symphonies, and I believe opening for Radiohead. BUT I remember seeing them play to crowds of 10 in grimey Brooklyn lofts under the name Teenage Jesus when we lived together and for a little while after that.
Finally, since I've been in NY for a while now and have made a lot of new friends along the way, I figured I'd include a couple recent tracks by friends that I hung out with this week- Maggie Horn (vocalist on Telephoned) and Ibe (remixer/producer/cool guy). Because that's how it is here in the city, and it might be the lure that keeps me living here for a long time to come.
The Years : Lets Stay In Love
this song features Sam's soulful lil bro Sy on vocals. peep the rest of the album here
Grizzly Bear : Cheerleader
La Roux : Bulletproof (Ibe Remix)
Telephoned : Rockin' That Thang
get her whole club killin EP here and the mixtape here