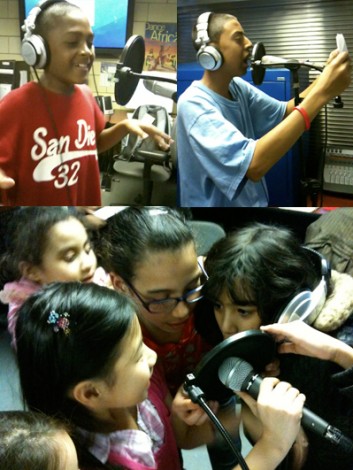 clockwise from upper left: Lil PJ, Young E, Brooklyn Supergirls
Last week I finally took the leap of faith that I'd been dreaming about for a LONG time- I quit my dayjob! This means it's all music, all day, everyday, and somehow I gotta pay rent with that. I have total confidence and have believed in my ability to do this for a while, but there was a damn good reason for holding off so long. My dayjob had some incredible perks, foremost among them being that I got to make music with kids and help them write incredible songs. For the past 4 years I've run a little production "studio" out of a computer room in the Sunset Park recreation center, directly in the heart of one of Brooklyn's most diverse neighborhoods. In the early afternoon it would be the elementary and middle school kids, then after 6pm I had a steady crew of high schoolers who would come in and start writing furiously while I banged out a new beat for them.
I loved it, learned a TON from doing it, and was inspired daily, but I also found myself getting worn down and frustrated with all the other BS I had to deal with working for a City funded organization with ridiculous amounts of bureaucracy. A lot of these kids are pretty heartbroken about me bouncing, but they realize where I'm coming from, and I also plan to keep working with the ones who really take it seriously. Before I left, I finished the 3rd compilation of songs from the group (there's tons more material that didn't make the cut- too dirty or street for the higher up's to stomach) but there's some seriously classic material here. I also uploaded volumes 1 and 2 as well since the world at large needs to hear this stuff. I'm giving you a few favorites off the latest album, but download the zip files for the complete albums with artwork included. You'll hear a tribute to garbage men, the freshest homage to Dublin Ireland ever written, and a tearjerking mom appreciation song complete with vintage vocoder hook. Much love to all my kiddies and long live SUNSET STUDIOS!
Young E, B Good & Lil PJ : What Time Is It? (these guys are 16 and 14)
Brooklyn Super Girls : Super Girl (9 years old!)
Blue Level : Besos Mojados (15yr-old Dominican superstar in the making)
Download the full albums here:
Sunset Up Next Vol.I (2007)
Sunset Up Next Vol.II (2008)
Sunset Up Next Vol.III (2010)
And peep some of the music videos we made: What's Bubblin In Dublin? & NY Minute