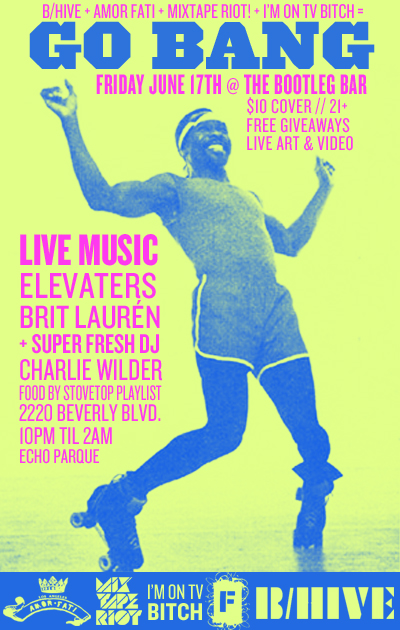 All you folks in and around the City of Angels should come out and party tonite. Good bands will be playing, art will be on display in the gallery, and I will be providing an eclectic selection of songs to make you move, as per usual. Here at Mixtape Riot we do dancing right. If these songs I'm sharing don't get you in the mood, then I pray for your heart of stone and your curmudgeon of a soul.
J*DaVey : Quicksand
from their new EP, available for FREE right here. This is not to be missed, especially their cover of Smells Like Teen Spirit
Electric Wire Hustle : Gimme That Kinda & They Don't Want
I need to go to New Zealand so I can understand what the hell makes all these Kiwi's so damn soulful. Check their album here.
Is Tropical : Land Of The Nod & The Greeks
I got turned onto these guys from this most highly excellent video, which basically depicts exactly what me & my brother used to spend our childhood days doing.
Metronomy : The Bay
I also found this through a well-executed music video, then I realized the song didn't want to leave my head. So I let it stay.
Poolside : Do You Believe?
If they're asking whether or not I believe that this is a perfect summer dance track, or whether they picked the right band name, then my response is a definitive YES. I am indeed a believer.
Boohgaloo Zoo : Come To This
Tropical vibes galore. I love picturing this flamboyant marimba player in the courtyard of a stuffy tourist resort somewhere near the equator, absolutely killing it.
Fred Everything & 20for7 ft. Vanessa Baker : Friday (Crazy P Remix)
Did Fred feel like he had to include everyBODY on this track?!? Well, regardless of having too many names on the title, I'm glad all these people came together to make this sultry italo disco banger.
I:Cube : Falling
Slowing things down a bit and smoothing it out. This one gets nice and dubbed out around the 2 and a half minute mark.
Mia Doi Todd + José Gonzalez : Um Girassol da Cabelo
This one comes from the new Red Hot + Rio 2 compilation which is dedicated to the spirit and sound of Tropicalia. The volume is super low on this MP3, which leads me to believe it hasn't been mastered yet, but the music is great regardless and the rest of the all-star album looks like it's going to be a winner.