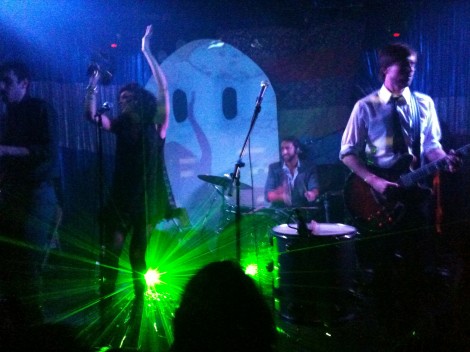 I'm proud to say I know a lot of people making good music right now. Today I wanna give proper respect to a handful of these friends. Also should take a moment to plug that I'll be doing a party with Brit Laurén next Friday in LA at the The Bootleg Bar & Gallery. She's singing with her band and I'm DJing. All you Angelenos should come out. More good music from her coming soon… don't say I didn't warn you.
Brit Laurén : We Runaway
from her new EP (produced by Yellow Alex) that you can get right here
The Wellington Papers : Jackie
New band with my boy Ibe on drums. Get their free mixtape right here
Caught A Ghost : No Sugar In My Coffee
actually not friends of mine, but I saw them (pictured above) on a line-up with another friend's band – He's My Brother She's My Sister – and now I want to be friends with them. Here's a link to their EP
Jasmine Solano : Turn It Up (ft. Hollywood Holt)
new grimey hip hop single from the steady-grinding, ever-styling Jazzy Jazz.
Orquesta : Dona Sandra (ft. Zuzuka Poderosa)
The Amazonian warrior princess on vocals was the bartender at one of my first and longest-held DJ gigs in Brooklyn. Look out for her name, I think she's touring Europe right now.
The Hackney Empire ft. Kastro : Fraudian Slip (Uproot Andy Remix)
Andy KILLED this remix and it is now killing dancefloors at every party I DJ. Buy the hi-res MP3 here.
Antony Santos : Vete (Uproot Andy Remix)
I'd been meaning to do a bachata house remix for a while now, but the homie beat me to it. It won't stop me from adding to what deserves to be a whole new genre of music.