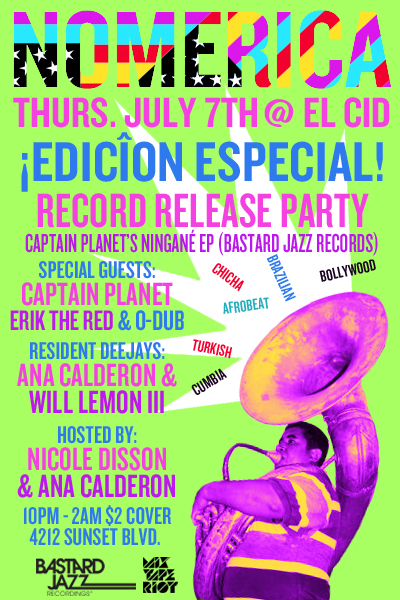 This Summer we're throwing parties like it's our job! Oh wait, it IS our job. And we do it well. Tonite we'll be celebrating once again for the release of the new Capt. Planet Ningané EP. This time it's a bit more of a dirty dive-y dance party, rather than a classy soiree. Special guest, and long time super-hero of mine, O-Dub (aka Oliver Wang – man of many academic and musical projects that make record nerds like me drool) will be dropping in for a set. O-Dub also was gracious enough to feature an interview with me on his new podcast series Sidebar. If you're interested in hearing me talk about the difference between the NY & LA club scene, the beauty of stereo panning on old records, and my upcoming full-length album on Bastard Jazz, then it's definitely worth a listen. Since I put up some old classics last week, I'm focusing on a handful of new joints that still fit the international style requirements and get the dancefloor loose. The weekly NOMERICA party has been my first real home-base here in LA. If you like the crazy, mind-altering, global beats that we post here, then this party is for you.
Ocote Soul Sounds : Primavera another gem from this highly recommended album
Los Chicharrons : Bamako
this album dropped outta nowhere and I'm still flabbergasted. I don't know where this band came from, but I want more.
Schlachthofbronx : Chambacu (Smutlee Remix)
Cumbia airhorn dancefloor banger from this EP on Mad Decent
Bauchamp : Calypso ft. Tsunami
One of the random mp3's I got in my inbox and actually loved! Thank you Bauchamp (next time 320 mp3 please!)
Starvoz : Opa Cupa (Ram Ram Remix)
Balkan heat from this EP on Blue Gypsy. I got hip to this cut from one of DJ Badre's excellent mixes.
Owiny Sigoma Band : Doyoi Nyajo Nam (Quantic Dub)
damn Quantic, minimal electro afrobeat?!? Is there anything you can't do? Check the EP
Jali Bakary Konteh : Combination (Hatnhoodie Remix)
came out a lil while back on Akwaaba, but it stays in rotation always sounding fresssssh. Peep the album.