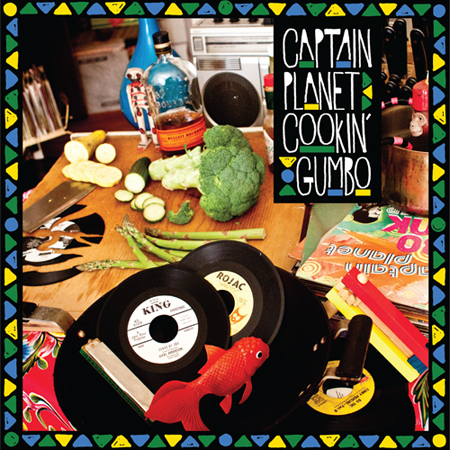 Today marks another big one in my book- it's the official record release date for my first full-length Captain Planet album "Cookin Gumbo". This album pulls together some of the best tracks from the 3 prior EP's I released on Bastard Jazz Records (all re-mastered & sounding better than ever) Â as well as a handful of new tracks that I'm really excited to finally unleash out into the world. Captain P was my first ever musical alter-ego, a sonic superhero on a mission to protect the planet's dancefloors with funk and soul from around the world. Â If you've been following this blog for a while, or if you're one of the dedicated few who remember the old Captain's Crate days, you'll know that DJ DRM who runs Bastard Jazz Records was one of my earliest supporters, and has since become one of my best friends. I could keep blabbing, but I'd rather let the music do the rest of the talking. Go get it now on iTunes or for you classy old school heads, pick up the CD & vinyl 2XLP (comes with free download) from the Bastard Jazz Webstore.
If you live in the US or Canada, tune in to your local NPR station to hear Captain Planet as the featured artists today on PRI's "The World". There's a 5-minute segment called "Global Hit" that I'm very excited to be taking over for the day. AND, if you live in LA, NYC, DC, or SF then I really hope to see you at one of the upcoming record release parties… all of which are sure to be bonkers.
Here's another free download off the album in case you still need to be convinced
Captain Planet feat. Brit Lauren – Get You Some by bastardjazz
FINAL NOTE: I swear I'll go back to posting other people's music soon! I don't want this blog to just be my promo outlet, it's just been strange timing with a lot of different projects coming together at once. As always, stay tuned for more of the hot shit.