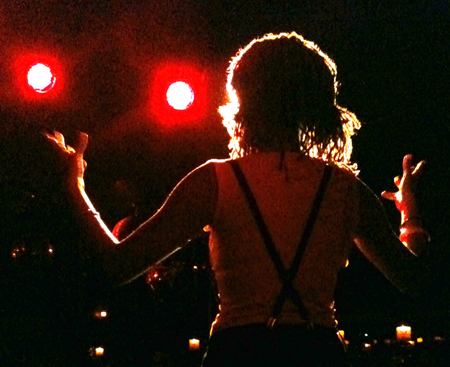 Finally got home late last night after 2 weeks of non-stop good times bouncing through 4 cities. The mini album release tour was a huge succes! I know I should have actually promoted all the shows on here beforehand rather than telling you about them after the fact, but I was more than a little bit busy. HUGE GARGANTUAN THANKS to all the people who helped make the trip happen. Every stop was a piece of history for me, and I couldn't have asked for better crowds.
Starting with the legendary Afro Funke party here in LA with Jeremy Sole, Glenn Red, & Rocky Dawuni (picture above is Brit Laurén murdering the vocals at that party). Afro Funke was the very first party I came to in LA back before I lived here, so it felt like a proper full-circle to be up on stage there with the whole place jumpin. Friday night I joined forces with the Turntables on the Hudson crew (Nickodemus + Nappy G & Amon on percussion) as well as Chris Annibel (Afrokinetic) and the man behind Bastard Jazz– DJ DRM. It was a proper Brooklyn throwdown, with tons of family and friends who I hadn't seen in way too long breaking a sweat on the dancefloor. Saturday I hit the classy DC establishment Eighteenth Street Lounge, joined by my B.J. comrades DRM & Erik The Red. Having heard about this club for years, I gotta say it definitely lived up to its reputation and then some. Back in NYC I met up with DJ Jeannie Hopper for a hilarious and very informal interview that aired on her WBAI show Liquid Sound Lounge (stream the show here at least until next Sat).
Next stop was the Bay Area, where I went right from the airport to the KALX studios in Berkeley for a great interview and DJ takeover with host Citizen Zain. You can check the 60-min show as a podcast below (new exclusive un-released remixes in the set!). Then I rocked with the Afrolicious crew (finally we met in person!) in SF at the Elbo Room in front of what may have been the craziest cowd of the whole trip. I have never seen people throw up their hands, shouting, jumping and full-on bugging out… to afrobeat. It was the type of reaction I would expect at a Tiesto or Major Lazer show, but I guess in the Bay they take their funk music seriously! I managed to sneak in some time to catch up with fam and friends, and also got my paws on a ton of new music, which will of course be making its way onto these pages starting now…
Superhuman Happiness + Cults : Um Canto de Afoxe parra o Bloco do Ile (Juan McLean Remix)
such a deep groover! This one did some serious devastation on the dancefloor. A rare example of many chefs in the kitchen working together without spoiling the stew. You can find the rest of the remixes here
Lucky Gomes : Zeze E Toto (Remix)
from the excellent compilation of modern African bangers put together by Radioclit. Get it here.
Afrolicious : Thursday Night Kinda Swing
after experiencing what these guys do every week, this track has taken on a whole new meaning! Check the whole EP on ESL Music and stay tuned for more heat from them soon…
Alex Dimou : Nina & The Band
simple re-edit on one of my all-time favorite b-boy classics
Orlando Julius : Disco Hi-Life (Edit)
"Enjoy yourself and be happy". I have the OG lp and I always wanted to do an edit of this one, someone beat me to it.
Ted Taylor : Ghetto Disco (Edit)
favorite disco discovery in ages. For me, the song starts at the 5:30 mark.
The Congos : Congo Man (Carl Craig Edit)
another simple edit on a classic, but the subtle touches here make it even more deadly.
Björk : Crystalline (Omar Souleyman Remix)
probably the coolest collabo of the year. I don't know who made this happen, but it's pure genius, and the definition of Gumbo Funk.
Finally, here's that radio interview on KALX with Citizen Zain (new material alert!)