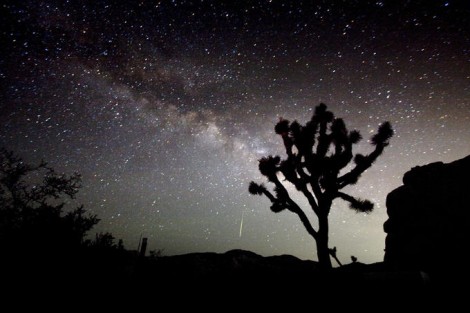 I spent the weekend under the open sky in Joshua Tree and was reminded just how many stars there are up there. Kinda like how many musicians are out there right now making new sounds. It can be overwhelming. It's easy get lost in the vastness; feel small and insignificant amongst the giants. But it's fun to lay back and connect the dots, draw constellations, map out your place in the ever-shifting cosmos. Do I sound like a complete tripped out hippy? Perhaps I am.
Brit Laurén : A Tragic Disappearance
Synthy funk pop from the new EP by my homegirl (who you may recognize from her vocals on this). We've got some new tracks we're working on together too, you've been warned!
Julien Dyne : Layer & Stained Glass Fresh Frozen (both featuring vocals from Mara TK)
Not sure how this EP of his from 2009 slipped past my radar detector, but now I'm hungry for more of this choppy, organic, electro soul. Â Be patient when listening to Stained Glass… the beat doesn't really start until the 1min mark, and when it does- MONEY.
HEALTH : In Heat (Javelin Remix) & Die Slow (Tobacco Remix)
both taken from the 2nd album of remixes from these LA noise rockers. The combination of plucked thumb piano and grimey electro synth on "In Heat" works like salty potato chip crumbs on a grilled salmon fillet, which is to say- genius.
Mayer Hawthorne : Can't Stop & The Walk
wow. wow. and one more wow. The level of production on here (the strings! is that a french horn?!?) is mindblowing. But then to sneak in a cameo from SNOOP D. O. double G!?!? It's almost too much awesome for my tiny human mind to comprehend.
Miguel : Quickie
a sleeper radio joint from one of the best things happening right now in R&B.
Gotye : Somebody That I Used To Know (ft. Kimbra)
I know, this song is already everywhere, probably played out to many of you… BUT it's such a monster of a track that I had to share. Also, Gotye and Kimbra will be doing a show at this very small venue a few blocks from my house tomorrow and I will most definitely be there.
Thundercat : It Really Doesn't Matter To You
However tripped out and cosmic I may sound, this dude trumps me by FAR. His new album on Flying Lotus' Brainfeeder label has a heavy dose of 70's fusion (almost in the vein of Weather Report on some of these tracks), which I'm not normally a fan of. But when paired with heavy psychedelic sounds and funk keyboards, the combination works. Still not a huge fan of his vocals, but he has his moments.
Active Child : Shield & Sword & Playing House
another fellow Angeleno making moves. Moody doesn't even really come close to describing the depths of solitude and eeriness conveyed on this record. A tortured harpist with the voice of a ghost might be more appropriate.