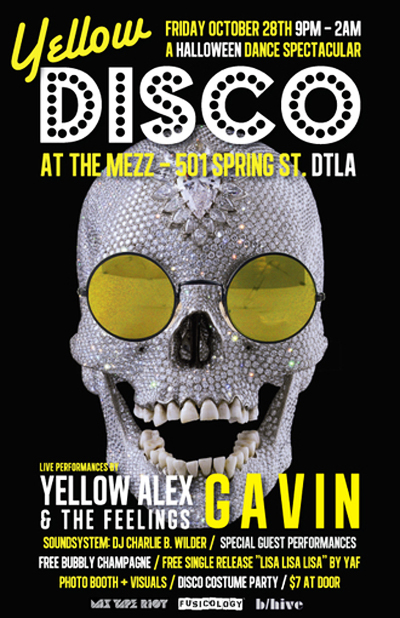 Parties parties parties! I DJ'd 4 nights in a row last week and there's 2 more (possibly 3) good one's this week. The main event is taking place on Friday night downtown LA at The Mezz – peep the FB event here for more details. My homies Yellow Alex & The Feelings will be performing and releasing their brand new single (along with a funky disco-fied remix by yours truly) and I'll be on crowd control duties behind the DJ booth. The general idea is to bring Studio 54 back from the dead for one night. Actually, it would be more appropriate to say that we're having a séance on the dancefloor to make Studio 54 "undead" for one night of ghoulish gaudiness. To give you a lil taste of what you can expect, I put together a playlist of some disco & Italo favorites that you may not be familiar with.
Sister Sledge : Lost In Music (1984 Mix)
the Bernie Edwards & Nile Rogers combo never disappoints!
Stephanie Mills : Put Your Body In It (12
possibly one of the first disco 12's I ever got. Still love it.
Joy : I Need Your Love
ESG : Dance
The simplicity of this joint is devastating. When in doubt, let out a hoot over a drumbreak and you've got a hit record.
Loose Joints : Tell You Today
another funky Arthur Russell production. The horn line definitely sounds like it owes a bit of inspiration to "Soul Makossa".
Ingram : D.J.'s Delight
who is Ingram? I don't know but this track is dope.
Talking Drums : Courage
moody, spaced out, New Wave meets dark disco. Or something like that. Found out about this joint from DJ DRM back when we made this mix together.
Charlie : Spacer Woman
Italo electro craziness that makes me proud to bear the same name.
Ruth : Polaroid/Roman/Photo
sexy bizzaro synth trippiness. The horn build at 2:20 is absolutely stunning and very unexpected.
Exile : Stop (The Starkiller's Edit)
a little something to wind down at the end of a long night. I could definitely hear Biggie on top of this. Puffy slept on this one, but The Starkiller didn't.