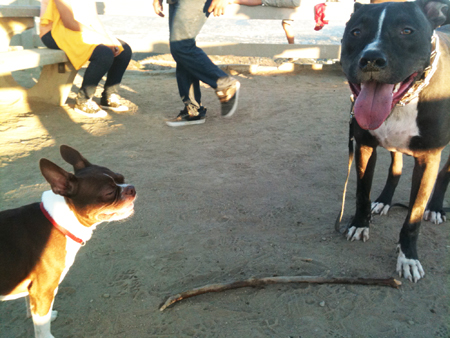 Happy as a dog with a stick. Maybe happier. I've got a million and five things to be thankful for, but more than anything right now, I'm giving praises to the most high for helping my youngest brother make it safe and sound through an 8-hour surgery yesterday. Today's songs don't really have anything to do with the worrying, or good health, or giving thanks per say, but sometimes joyful distraction is just what the doctor ordered. I realize there's a bit of a clinical flavor to the funk today, maybe that's the connection (I've been spending a fair amount of time in a hospital this past week, which might explain it).
Benny Sings : Big Brown Eyes & One II
from this album. Shouts to Marlee (& indirectly Radio Nova) for hipping me to this smoothed out electro soul
Carte Blanche : With You (ft. Alexis Taylor)
mellow blue-eyed soul crooning from Hot Chip vocalist has kept this simple bouncey electro house jammer in steady rotation lately
Totally Enormous Extinct Dinosaurs : Trouble &Â  Dream On
more funky white-boy electro house. I'm not sure if any of these tracks would really go over too well on a dancefloor (unless perhaps you're playing the 3-5am shift at a Bushwick warehouse party), but "Trouble" in particular is hitting a sweet spot for me.
DJ Self Help : Cape Cassandra
Straight outta Columbus Ohio, DJ Self Help comes supremely correct on this blend of afro-tropical-bass and white-boy-electro-house. I've been meaning to post this joint for a minute but finally found the playlist to fit with it.
New Navy : Zimbabwe
Afro-pop meets indy rock and they fall in love on this song. I don't think a holiday in Zimbabwe would actually be as rewarding as the lyrics by New Navy suggest, considering Mugabe is still president, but don't let that get in your way from appreciating the nice drum break down.
Jamie Woon : Lady Luck
while some of this guy's singing leans a bit on the cheesy side, this track (which I believe he also produced) falls right in the pocket.
Alan Wilkis : Come & Go (ft. The KickDrums)
really glad to hear this hard-hitting collabo off Wilkis' upcoming album "Prints". The grimey dubstep styles on here are a pretty big departure from both Wilkis & The KickDrums more 80's funk styled earlier tracks, but I'm liking the new direction. Check here for the whole EP with remixes from RJD2 & Big Pooh among others
DJ Shadow : Scale It Back (ft. Little Dragon)
I can't whole-heartedly recommend Shadow's new album in it's entirety (sorry dude, the hard rock shit ain't for me), but this unexpected collabo is a total standout on there.
Gotye : Puzzle With A Piece Missing
excellent dubby sounds from an earlier album by this man who's catalogue I'm just now discovering.