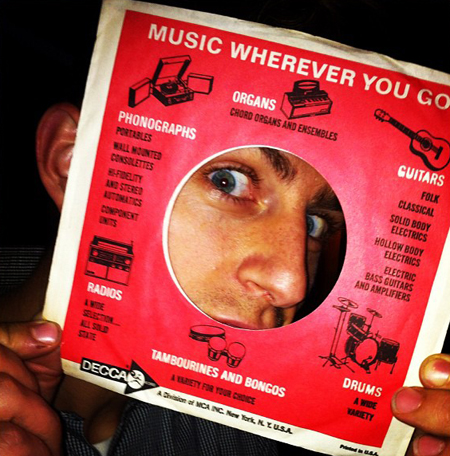 Back on the road again (thus the lag in posting). The pic above comes courtesy of my new homie DJ SUN who kinda runs all things funky in Houston, TX. I had a whirlwind stay with the man where we managed 4 dj gigs in 3 days, got busy in the studio on a new track, and played lots of funk 45's. Oh yeah, and then there was that $600 bottle of wine that we drank… Big shouts to The ARE, Krystal Hardwick and all the other cool people I met and chilled with in H-Town.
Then I stopped in NOLA for an action packed reunion with my Beatards brothers. Much more drinking, eating of amazing food, dancing to live music, and general tomfoolery ensued- as well as some very fruitful record digging (which you'll hear more about soon). But for now, while I'm stranded in the Philly airport on a delayed layover, some tunes! Good ones at that. Props to another new friend of mine, DJ THC, for a bunch of today's selections.
Munk : Tipsy? & Violent Love
taken from this recent album which I highly recommend. Tripped out funky mid-tempo disco with bouncy vocal melodies that have a tendency to stay with me long after the song is over (check "Kitchen Call" for a prime example).
Midnight Magic : Beam Me Up & What The Eyes Can't See
irresistible from the first conga slap. This disco group from BK stands out with powerful vocals and a hilarious sense of humor
Hypnolove : Holiday Reverie
perfect song title for my week. Really a sucker for the percussion and afro-pop style guitar intro on this one. Check out their Holiday Reverie EP
Penguin Prison : Don't Fuck With My Money
the man makes perfect sense, and does it over a synth groove that would leave Prince drooling. I think we all can relate.
Jessica 6 : East West Funk
just saw them open for Holy Ghost in NOLA this past weekend and was very pleasantly surprised when I realized I was seeing members of Hercules & Love Affair on stage without even realizing it. More here.
WhoMadeWho : The Plot (Discodein Remix) , Motown Bizarre , & Small Town City
Found out about this group by the old tried-and-true-over-the-shoulder-dj-trainspotting technique I've been working to master for 10 years. Â "Motown Bizarre" has just the right amount of fucked-uppedness.
Gregory Porter : 1960 What? (Opolopo Bass & Kick Rerub)
So happy to share this new soul jazz gem. The OG version didn't need much tweaking (already such a winner), but I really respect the subtle touches that Opolopo added to make this one just that much more devastating.